The power of Internet video. It's already big and continuing to grow. By luck I have two great Internet video examples today.
The first, since it has the mass appeal, is the US Open golf playoff going on right now. Thanks to the US Open website, I can watch streaming LIVE video of the bonus playoff round today between Tiger Woods and Rocco Mediate while I sit at my desk.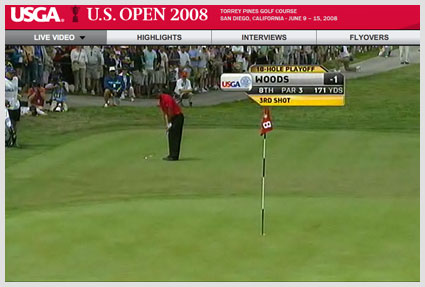 Without Internet video of this, I would be checking updates every 10 to 15 minutes or taking a long lunch at the bar around the corner (still sounds like a good option). Internet video brings more eyes to the web. I"ll be interested to find the stats on the increase in web visitors and viewers for todays playoff round.
Drumroll please ……
My second example is our new Five Technology company video. We finished up this minute and a half segment last week, added it to our website as well as a few video sharing sites on the net. Internet video is a great way to showcase your company in an overview, offer customer testimonials or feature a specific product or service. Five's Internet video production can help you plan, script, shoot and edit your own video segment to really enhance your website. Todays' website visitor needs more than a few lines of text to engage them and video on your website grabs a hold of the user and lets you tell your story. It truly is a powerful and engaging medium.
Here is our web design company video below in a YouTube player, but if you visit our Why Five page you will see we can customize and embed a Flash video player into any website or page with endless customization.
Give Five a holler with your video production needs for your website.