Internet Video Production
Add video to your website
Bring your message or company to life with Internet video on your website. Video communicates and interacts with website visitors like no other aspect of your website. Engage your customers with online video segments covering:
Company overview (view our video)
Client testimonials on your company
Service overview or process video
Product testimonials or reviews
Educational videos for cusotmers
Training videos for staff or partners
Full Service Video Production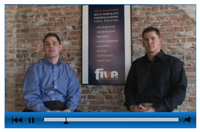 Five offers full service Internet video production in the Minneapolis, MN area. We help you develop your video concept, offer on-location video shoots, edit the footage and audio to produce a finished product that enhances your website to a whole new level. Once the video is complete, Five can customize a Flash player for your website and also help you leverage video search / sharing websites to add to your Internet marketing.