---
My First 30 Days On Twitter
It was after watching a video on Twitter Marketing 101 posted on Doug Karr's blog that I finally signed up for Twitter. I had probably made it to Twitter.com numerous times after reading other blog posts or print articles on Twitter, but for some reason I held off on getting involved. Looking back I compare it to late 2006 when I finally started business blogging after sitting on the sidelines (for far too long). Now 30 days into Tweeting, I have put out 73 tweets, the last one on writing this blog post. I'm following 41 people and in turn being followed by 34.
What Was My Hesitation To Start On Twitter?
I thought there couldn't be enough value in short thoughts, randomly in the day. I couldn't wrap myself around the benefits and use of the technology, mostly because I didn't even give it a try. I thought that online interaction couldn't get any better than a blog post and comment string. I was wrong.
"Finally signing up for twitter and tracking peeps down"
Yup, that was my first Tweet. With that first update I starting to search out people already using Twitter and I started to understand the value. Foremost for me in the beginning, Twitter was going to be access to some great minds in web design, Internet marketing and all that other web stuff I love. Finally I looked at what I could "buy" by being on Twitter instead of what I could "sell". I could suddenly see what intrigued Lee Odden, where Ted Murphy was pitching Social Spark ( I heart Rockstartup.com), what conference Rand Fishkin is speaking at or even the random humor of Aaron Mentele and Ed Kohler. I was eavesdropping on great Internet minds, thanks to their sharing via Twitter.
Participating In The Conversation
I remember when starting to blog, the pressure I felt to make "valuable" comments on all these great blogs and posts I was reading. The fear of saying something basic (or stupid) to these great web minds often lead me to not participate. Then I decided I would never get anything out of sitting on the sidelines and that these great minds would probably still interact with my takes even if they weren't earth shattering. They did.
I learned even more because I jumped in the game. That same thing has applied to Twitter. The first few days I thought I had to tweet some great information, break some great news or hype a blog post first. Then I remembered my blogging experience and I just went with what I was really doing and being myself. Turns out I have things to offer without being an A-list. Now the tweets come easy, without pressure and I get more out of it. I enjoy it.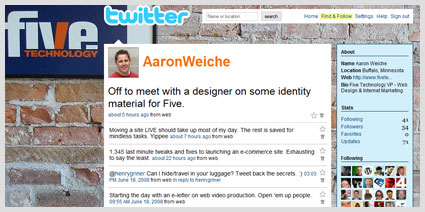 The Benefits Of Twitter So Far
The biggest benefit has been the access to the intelligent and savvy minds of industry experts as I touched on. What a great source to get a better pulse of what they are plugged into … or what they just ordered for lunch.
Another benefit has been finding other peers out there locally in Minneapolis and in other areas of the country doing what I do and being equally talented at it. Rick Brooks of Flyte New Media, Teddy Garcia of Cyber Media Marketing, August Ash Web Design here in MN and of course knowing even more on Paul Jahn's local search thoughts. Being in the industry that has the biggest users of Twitter is a benefit. If I was into pottery or cooking, I doubt I would have access to so many respected and experienced folks.
Getting put onto news or industry articles quickly has been another benefit. People like Matt McGee, Chris Winfield and Jennifer Laycock put me onto some great info well before I would ever find it through blogs … and maybe I wouldn't even find it at all.
I've been baited and hooked on Twitter as well. Just last week PRmoxie of Sterling Cross Communications mentioned a new business publication in Minneapolis she was just added to and when I asked her how to get in on it … she let me know a good PR person (like herself of course) could make that happen. A sales pitch on Twitter! That tweet did get me thinking of when the timing will be right to utilize her services. Without following her on Twitter, that wouldn't have happened.
So What's Next?
It certainly has been an eye opening month for me on Twitter. I haven't even touched on the many other business or marketing uses of Twitter and the accompanying tools others have created. I'll be posting more on that down the road. I'm looking forward to tapping in to more great minds, access to industry information and learning. I'm interested to see what my threshold is for following, can I possibly follow 100 people and still get great value? 200?
I will be using Twitter to launch and promote an internal web project for Five Technology later this month and I can't wait to see the results. Lastly I'm curious to see what it will take to gain more of my own audience and followers.
Will mainstream media and attention push more small business owners and management, especially in the Minnesota area, to join Twitter to follow a great small business web design and Internet marketing mind? I hope so and they (and you now!) can follow me by visiting Twitter.com/AaronWeiche.
It's not hard to imagine the same growth and acceptance blogs have seen in the mainstream this past year hitting Twitter. But even if that doesn't happen, I have already found the value of Twitter for me, in just 30 days.