---
Our Logo Design Process Was Great, Your Logo Process Should Be Too
Two months ago when the name Five Technology was agreed upon we then had to give birth to a logo. I enlisted the help of Sarah Lavin, a freelance designer who I was referred to by our first client, Eventive Meetings. I was able to get a glimpse of Sarah's skills and process from Eventive and knew she was a good fit for bringing our logo to life.
Planning & Discovery
Since I'm a creative guy myself I put together some samples of logo's and design elements that inspire me. I also included some rough mocks of the web interface we were working on (which completely changed after our logo came alive). Sarah and I talked on the phone for about an hour and then she said she would have some structural concepts to me in a week. It's important to get the structure down on a logo before you get carried away with colors and other details. After just a few days my inbox had the logo concepts below.

We liked the strong and solid feel that the far right concept gave us. It embodied the trust and strength we wanted to convey to our market.
Colors & Variations
Next came laying out some color options and tweaking the layout. I won't make you look at the 12 to 15 different structural and color combinations that we made Sarah pull together for us, but the three below are good example some of the avenues we explored.

We toyed with the structure of the "tucked" Technology and also playing off the leg of the V into an exclamation point. In the end, the further versions were just options we said "No" to and the original structure won out. I have witnessed this extra step of creation with clients before and commented to Sarah I wouldn't do that … but I did.

The Final Logo Result
Below is the winner as you already noticed from our website or blog header. It was a great experience and one that was truly productive thanks to Sarah's expertise and guidance. If you are considering a logo design or a redesign, make sure you can see an example of a similar process from your contracted designer. Logo design is not just a one and done "here you go", but a process of planning, creativity and options. A good logo designer helps you throw the right stuff at the wall and then helps you see what best sticks.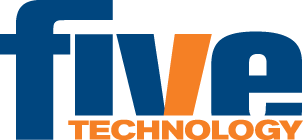 A good logo designer helps you throw the right elements at the wall and then enables you see what sticks for the right reasons.