---
Page Title Tutorial: Basic SEO To Get Better Search Rankings
If you are a search engine optimization beginner a great place to start is with your site's page titles. Please make note right now that SEO is a process of many components, not just one or more "tricks" to rank better. Page titles are very important to aiding in a better ranking from Google, Yahoo or MSN but they are not a magic wand (nothing is!). I can't count how many times a potential client has complained of their lack of traffic from search engines, but then doesn't even have a unique page title for their websites home page. Below is the classic "home" tag, showing they have done nothing with their page titles.
So lets break down the almighty page title and what you can do with it.
What is a page title and where is it?
The page title is the summary of what your web page is about. There is one for every page of your website located in your code and near the top.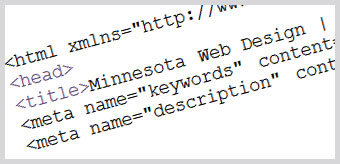 Each page title should summarize that page's content (which should be your targeted keywords). If you use a content management solution, it should have access to the page properties to complete this information for each page (Our CMS does). If you work with a web company, make sure completing the page titles and meta data is part of their service proposed. Also make sure they don't talk about meta tag keywords for hours …. that's a bad sign.
Why is the page title so important?
The page title has two jobs in todays world of search. First it is the summary of the pages content and the engines greatly consider the words in your title for their algorithms. The engines take this summary and use it to help them figure out what your web page is about. They will only pay attention to so many characters in your page title so you need to be brief and truly target what that page is about. Stuffing your page title with 30 words will do you no good. A few good rules of thumb are 4 to 8 words or under 65 characters including spaces. Below is the example of our home page's page title. We are targeting "Minnesota Web Design" more than anything, it's who/what we are, so those words appear first (left).


(ps- this is a competitive term and we will need some time to gain rankings on it)
This page title contains our main service, who we are and further down hits upon our secondary service (Internet marketing). Some people will put their name first, but I choose to place more importance on the targeted term for SEO as your business name is the easiest to get a top ranking for (almost always).
Here is another example for a Minneapolis plumber who has done the job of page title correctly.

It doesn't hurt that their name includes major keywords they are targeting of Minneapolis (location) and Plumbing (service). You can see from above that their page title uses their location targeted twice, implying both "Minneapolis "and even using "minneapolis metro" to show they do the suburbs and area around the city.
Secondly is that the page title is what appears in the search engine result pages. Here is how the Minneapolis Plumbing example appears above in Google for a search of minneapolis plumber. They are the #1 organic web result.

The page title is what searchers see first and use heavily to determine if they will click that link. Building a page title that can rank you well is great, but you should also consider how it reads once displayed.
What should you consider when writing page titles?
1. Your page title should summarize the pages content, links and photos/graphics
(If it doesn't, then realize your content needs to be more search friendly structured)
2. The main keywords you are trying to rank for that is your service or product
3. The main area, location or city you want to target. Location, location, location.
4. Most important words to the left.
5. Be brief, you only have 4 to 8 words or 65 characters.
6. Make sure it reads well and makes sense to a search engine user
7. Mix in your company name whenever possible, its good branding.
8. Lose the marketing words like "greatest, trusted, perfect". Wasted characters.
9. Use dividers like pipes | or dashes – where needed to separate information
10. Most important – Write a unique and relevant page title for EACH page on your website!
In the weeks upcoming you can expect more basic SEO tips to learn more on picking which keywords to target, proper content structure, link building and more.
Here are some additional valuable posts on website page titles: