---
Question: Should I Start A Blog For My Business?
Most small businesses have heard of blogging, some read a few blogs and others have jumped into business blogging already. You might be wondering if you should start a blog for your small business. Most small business owners or management I talk to have some misconceptions on blogging. These "blog fears" are often a combination of misinformation from uninformed sources and their own inexperience.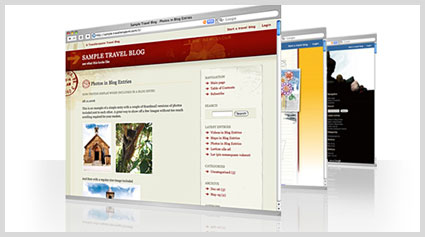 Lets address a few questions that should help you answer if you should start blogging and also squash some of those blog fears.
1. What can I blog about?
The easy answer is what you talk about. Many business owners and management can talk up a storm on their business, their services, products and how they are different. These same verbal exchanges work perfectly for a blog. I often can lay out at least 20 blog topics for a business within seconds. Writing about product features, industry news, service comparisons, new buzz terms, your process and the list goes on. The biggest takeaway here: Make a list of topics you would talk about (blog about). Share your experiences, your expertise and your niche knowledge.
2. How often must I blog?
Yes, frequency has it's rewards. Consistency is even better in my mind. Even committing and fulfilling posting once a week is worthy of a blog for a small business. You are far better off to put out solid content once a week then to just throw up a few paragraphs daily. I know blogs that post daily without value, they end up with few comments and their content feels very light. I, myself post once or twice every week and I've been very pleased with the growth in audience and SEO in the past 6 months. The biggest takeaway here: Once a week posts are enough, but make them valuable. Check out Blue Tent Marketing's post on Blog Food for valuable posts and content.
3. What about negative comments?
A common "blog fear" is negative comments, I smirk at this one as my first thought is lets get you enough readers to get people commenting. Many businesses fear the slightest bit of negative criticism, especially in a written form online. Realize that the majority of comments are positive or neutral, probably even over 95%. Even if you do get something negative or controversial, rise to the challenge. The Paramount Granite Blog covering granite countertops had this happen, and owner/blogger Barb Rodgers handled it perfectly. Barb's blog is a fantastic small business blogging example. The biggest takeaway here: You likely won't get anything negative, but if you do … meet it head on, you'll learn something for sure.
Hopefully I have helped you answer these three questions for your business or eliminated some blog fears. I want the overall takeaway to be that you need to look into business blogging further or even get started. I'm an obvious supporter of it and have seen it's benefits many times over. If you are a beginning or seasoned business blogger, I would love to hear your path to starting and the experience to date. Thanks!