---
Using Twitter & Retweeting To Increase Blog Traffic
I recently asked the help of a few Twitter users to measure the impact that Twitter can have on promoting a blog post. Plenty of bloggers on Twitter will tweet about their own posts but I wanted to see the power of "retweeting", when other Twitter users put out a link and suggest your blog post to their followers.
The outcome: Some simple Twitter promotion and retweeting DOUBLED my normal blog traffic for the day.
I've found myself referring to Twitter as broadcasting channels, no different than TV or radio. Each channel (person) has it's own set of followers (audience). Some are shared and the sizes, interests and interaction of the audience vary.
The Blog Post To Be Retweeted
The first thing I did was create a post of solid value and interest. No, not all of my posts make this criteria. So I thought that sharing our email marketing campaign statistics would be a great post.
The Twitter Broadcast Channels
Next I hit up some folks I know on Twitter from various web and Internet marketing backgrounds, "Twitter styles" and number of followers. Accepting my request to help were Desarae Veit of Sniki, David Mihm a Portland Web Designer, Kirk Anderson a Wisconsin Web Designer and Mike Rynchek, a Minneapolis Online Marketer. I'll break down their Twitter handles and followers at the end of this post, but these four broadcast channels and myself gave me exposure to over 2,300 followers.
The Retweeting Message
Here is a screenshot of a Twitter search of the TinyURL that was given to them to retweet my post. You can see how each of them suggested my post/link to their followers and audience.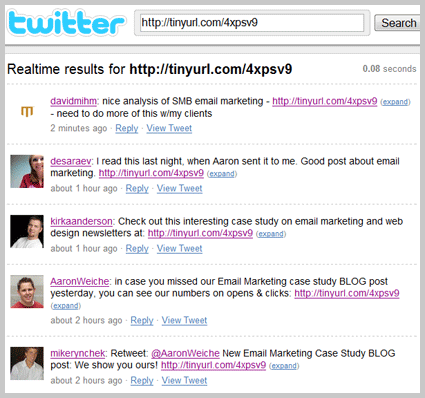 The Blog Traffic Result
Retweeting and the Twitter broadcasting made my unique visitors double, my page views double and I gained 8 new subscribers that day. No doubt, it was a powerful promotion tool for my blog. I went into this little experiment hoping for a bit of a spike but was very pleased with what it offered up. A few of my retweeters even shared with me that their readers gave them feedback or thanked them for putting them onto my post. How cool is that?
Twitter is a great broadcast tool and traffic generator, not just a great networking tool.
The Twitter Info On Those Who Helped
Here again are those that helped me and how you can follow them on Twitter. They all put out some great tweets on web design, social media, online marketing, SEO and small business. I suggest you follow them.
Of course you can always follow me as well at http://twitter.com/AaronWeiche .
Do you have a Twitter story to share on what it has done for your blogging traffic, web traffic or another aspect of your business? I would love to see your comments on this.