---
Web Design Footers Are Important
Why is it that the end/bottom of the page gets so little attention?  The footer in your web design, in our opinion, is a very important web design element and often goes underutilized.
You are engaged in the page content, you read it line by line, scroll down, and then you hit a dead end …. nothing.
So many times the footer of the website is merely the spot to tuck the standard copyright line of text and maybe a disclaimer. Let's put an end to that, OK?
Web Design Footers For Great Usability
This recent post from Web Designer Wall looks at sitemaps being used in footers. A fabulous idea for usability.  Give your users access to whatever they want next, don't force them to scroll back up.  Smashing Magazine also offered a post a while back that highlight some creative footer examples as well. Hey, footers can be fun too!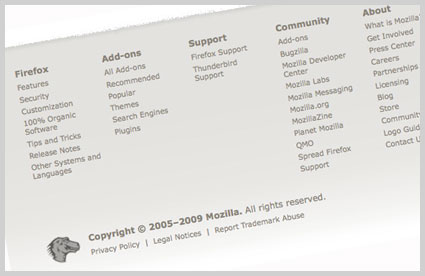 At Five we never ignore the website footer, but that post did get me thinking on how we can utilize the footer even more to aid a website user.
We currently make sure our web design footers contain:
Repeat of main navigation
Explanation of the site (main purpose, main service, main area, etc.)
Contact info (address, phone number [LARGE], contact/email link)
Logo (often displayed transparent or reversed out, just a subtle branding)
Copyright, disclaimer, privacy or any other site wide link need
The web design footer ideas below contain some things we have done and some we will look to add to our future mix:
Blog headlines or other constantly fresh content
Icons/links to social profiles (Twitter, FaceBook, YouTube)
Full sitemap (easy one click access to the entire site)
Map (great way to further the address of a retail/office location)
Integrated reviews from other sources of your business
Those are just a few and there are many more, do you have one or a care to share a great link with us?  Please do and please start giving the footer some respect, it matters.