---
Web Design Project: 4 Quarters Design & Build
Five's most recent web design project was for Minneapolis deck builder and home remodeler 4 Quarters Design & Build.  This project was a great example of making a good website great.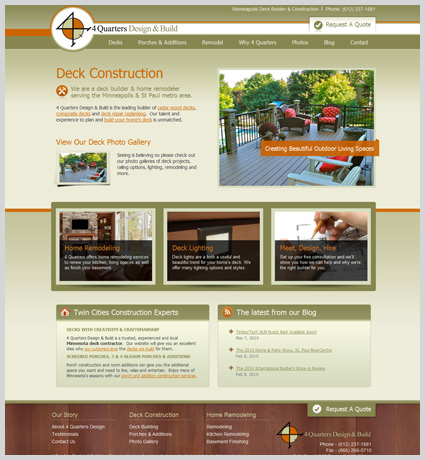 Making A Good Website Great
4 Quarters was already ahead of other deck builders when owner Brian Jacobson came to Five Technology. He had a custom web design, decent content and had educated himself on search engine optimization best practices.  But Brian also knew he could and should do more.
Five worked with Brian and enhanced the following aspects of his website:
Custom web redesign – The old site was good, but a new design was sought to punch up the visuals and also give proper attention to further upgrades outlined below.

Content management

– Brian had long sought to be in control. Five built the new website on our CMS and now he can manage text, photos, add new pages and more.

Enhanced content

– Five worked with 4 Quarters to increase the amount of valuable content on the site.  The website went from 9 pages to over 25 by getting more specific on construction services like cedar wood decks, composite decks and remodeling.
Custom blog design – 4 Quarters was already blogging, but used a WordPress site and not their own.  We moved the blog within the website to give users easier access to the posts and 4 Quarters the SEO benefits.

Photos, photos, photos

– Five added more photo elements to all pages as well as created photo galleries that will show clients what 4 Quarters can do.  It also allows 4 Quarters to add to and create more galleries.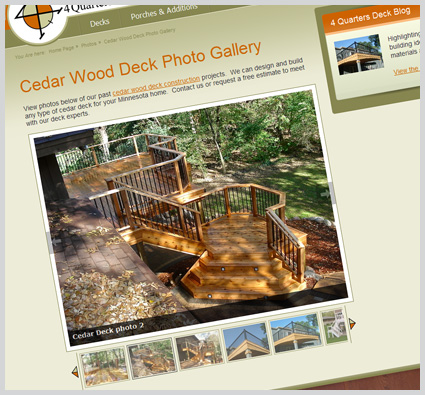 A Complete Design & Build
Just as the 4 Quarters name says, Five executed a great web design and solid build of new features in this web project. We were also impressed with the level of decks that 4 Quarters builds, they truly are exceptional.  We really enjoyed this web design project.
View website: http://www.4qdb.com