---
Which Social Media Accounts Really Matter?
It's no lie that social media is important for reaching out and marketing to your audience. However, social media is also misunderstood in some ways. One of those misunderstandings is which social media sites a business or individual should be on. We provide you with some insightful information and advice about which social media sites you should place more or less emphasis on when implementing your social media marketing strategies.
For starters, social media isn't just a fad or trend. It's an enduring reality of online existance. For marketers, it's indispensable. But when you approach social media as a marketing channel, things may get a little confusing.
Here's why. Social media marketing provides a vast array of ways to engage, as well as a wide variety of styles for each platform. It's more than just Facebook today. You need to figure out which of the platforms to join. Then, you need to determine optimal messages, posting frequency, cost of social media management, and how to make the most of the billions of people who are hanging out on social media.
To help you with the confusion, we'll offer some questions for you to consider.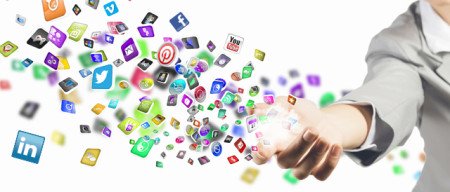 Where is My Audience?
The primary question to ask about social media is where your audience is actually spending time. What social media platforms are they on?
Just because you have followers doesn't mean that you have an audience. The Next Web reported that anywhere between 70 – 140 million Facebook accounts are fake. Simply having a bunch of followers doesn't guarantee that you have a real and active audience. While these fake accounts might be great for following numbers, they don't do much for your actual marketing.
Where is My Audience Active?
Big social media numbers doesn't mean big activity. For instance, there are over 1 billion Google users, but only 35% of those users were active on Google+ in the past month. Twitter is another example of a site with a relatively low number of active members. Of the sites 645 million signups, only a portion of those are active each month.
A social media user needs to be active on a social media site in order for them to be of any use to you.
In an infographic from Search Engine Journal, here's a graph showing how many social media users are active on their respective sites: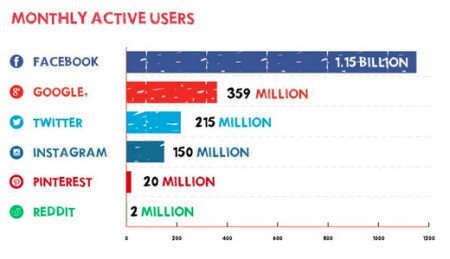 There's a difference between overall members on a site, and the number of active members on the site.
What Niche Social Media Sites are Right for Me?
Some businesses are missing out on a deluge of leads, because they are absent from niche social media sites. Just because lots of other businesses have gotten leads from a particular social media site, doesn't mean you have to do it too. What kind of business do they have? If they are an online fashion retail store using a site for the latest fashion trends, they are able to reach out to young adult women very easily. However, chances are you are not going to be as successful using that same social media site. Consider these 4 questions as a framework for determining your social media strategy. Don't just join randomly. Instead, choose intentionally, by answering these questions:
Where is my audience?
Where is my audience active?
Where is my audience searching?
What niche social media sites are right for my business?
With these questions in mind, let's explain the social media sites that truly matter.
Join the Big Four
At this stage and age in social media, there are four major social media sites. These sites are vital, regardless of your audience, your business model, and your strategy. Join them.
Facebook
Facebook has over 1.3 billion users, the largest of any social network. Nearly half of all Facebook users are active each day and spend an average of 18 minutes per visit. These users aren't just browsing profile updates or viewing photos. Each Facebook user is connected to an average of 80 pages, groups, or events.That's where you come in — your marketing efforts and Facebook presence.
Twitter
Twitter is a very fast-pace social media site. The average user, with their average 208 followers, 307 average tweets, and average of 170 minutes on Twitter each day, is a market segment full of potential. Similar to Facebook, about half of all Twitter users use it daily, and around 30% of Twitter users are active several times a day.
Twitter isn't so much about lead generation platform as much as it is a brand loyalty platform. For example, 85% of Twitter users "feel more connected" to a business after they follow them on Twitter.
LinkedIn
Every second, two people join LinkedIn. With over 270 million users, LinkedIn is a site to become familiar with.
According to Search Engine Journal, marketers love Twitter, Facebook, and Google+. Yet they leave out LinkedIn. However, LinkedIn is the platform for B2B (business-to-business) marketing and not B2C (business-to-consumer) marketing.
LinkedIn is a site that ties their users with their professional bases. Many of these user professionals are connected with companies. These companies could benefit from the extra marketing love. Don't neglect LinkedIn, especially if you're in B2B.
Google+
Google+ is a game changer in the social media landscape.
When you combine Google Authorship with the world's most dominant search engine, and create a social media platform that integrates them, it's no wonder that Google+ is turning up as a dominant form of online social interaction.
Google+ isn't just a social network to be dismissed as "just another social network". It's a powerful factor as well as a large audience forum. Unfortunately, many businesses have been slow to adopt Google+.
Those are the big four. Whatever you're selling, doing, or saying, these are the four social media accounts you need to keep active.
Consider the Lesser Two
Although not apart of the major four social media sites, these other two sites are still huge, and we strongly encourage you to be present on them as well.
Pinterest
According to one study done earlier this year, Pinterest officially became a more popular sharing platform than email. Pinterest has the highest revenue per click of any social sharing network.
When Pinterest first developed, it got labelled as a social platform for women. But now, women account for 50% of Pinners, which isn't much of a difference from the other social media sites. Pinterest is a place to be for any gender or company. Companies are able to create using images to portray articles to attract audiences.
Instagram
Instagram is a visual platform. It's important to realize that pictures get 5x higher engagement on Twitter, and photos make up 93% of the most engaging Facebook posts. With Instagram, it's all photos and videos. That kind of visual appeal is one of the reasons for Instagram's massive popularity.
Some social media marketers have argued that Instagram only serves the purpose of image-heavy brand content for companies such as National Geographic. However, Instagram is effective for nearly any type of business.
The social media scene can be overwhelming. But if you follow this plan, you're going to experience success for your Internet marketing, especially your social media marketing, leading you to a return on your investment. As you engage in social media, you'll learn how to implement your own personal style to connect with your audience.