---
Web Design Project: Simonson's Salon & Spa
There is never anything wrong with creating something beautiful, especially for a business that is all about it.  Our latest web design project released is for Simonson's Salon & Spa.  Adding to the fun was the co-agency efforts of Spyder Trap Online Marketing working with Five to produce the website.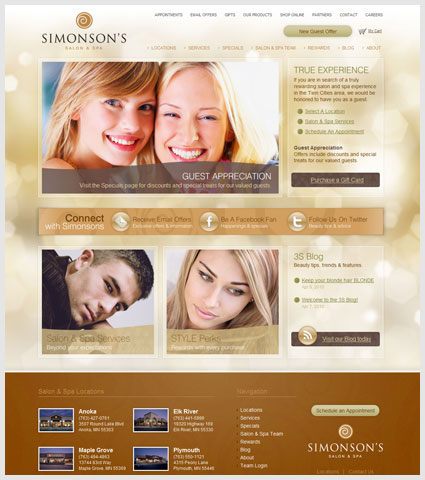 A Web Design With Style & Simplicity
During the early project discussions it was clear that we wanted to bring a stronger style to the Simonson's website.  Finding the balance between elegance and approachable was important.
Simplicity was a driving factor to make the website easier to use all around.  Clear navigation, focused services, content areas and new features combined to make the website easy to interact with for the user.
Simonson's also is engaging with customers on social media channels like Twitter and Facebook.  You'll notice the emphasis we put into letting website visitors know they can further connect with Simonson's via social media.
Location, Location, Location
It's no secret that the goal is getting customers in the door.  We put a strong focus on the Simonson's four locations by making it the first item left in the main navigation, prominent footer information (see below) and the detailed page of each location.
Below is the website footer that displays a photo, phone and address of each location on every page.  These are also clickable to the location detail page.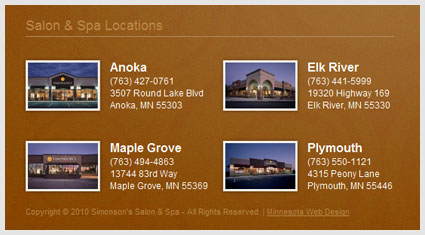 The location detail page, like this one below for Plymouth, features the address, contact information, photo gallery, online appointments, store hours,  interactive Google map and other helpful links.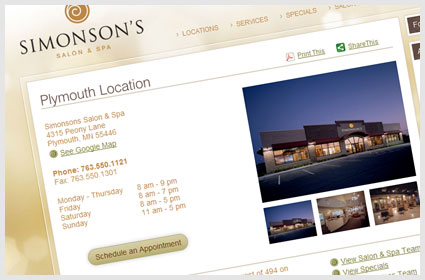 Finding the Right Stylist or Technician
Simonson's has an experienced and talented staff and knows that their people make the biggest difference.  We created an easy to use search and filter tool for users to find the right stylist or technician for their needs.  If you're looking for a stylist, specializing in red hair in Maple Grove, you'll find it!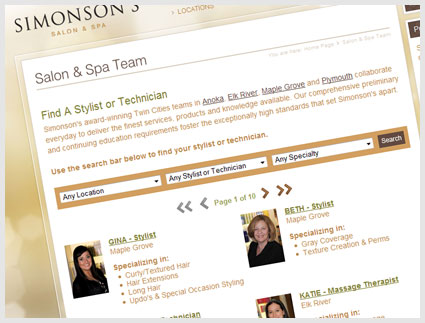 Recap of This Web Design Project
As you can see from the details above on a few features, a lot went into this web redesign in both form and function.  Here are a few more areas to hit upon in closing that we engaged in:
Custom web design
Content management with the SMC
Search engine optimization & local search
Salon & Spa Team search filter
Enhanced location pages
First time guest feature to market to new customers
Online gift card purchase
Online store integration
Online appointment integration
Prominent social media channel placement
We enjoyed the web design project, the great team collaborating together and the final outcome.
Check it out: http://www.simonsons.com