Professional vacation rental managers may not have the luxury of outsourcing linens to a third party company, and are often forced to take on this responsibility in-house. While linens is just another checklist item on the check-in / check-out report, it doesn't come without its challenges.
There are efficiencies to be had:
Pull all reservations from the property management system (Escapia, VRM, etc.)
Reservation Updates. Getting updates to reservations in a timely manner will save countless hours and fuel. Whether check-in / check-out dates, property switch, add/remove line item, or delivery notes, getting these updates quickly is of utmost importance.
Rental Items. Management of rental items and corresponding inventory.
Customers. A central place to store all your customer data, including customer direct and real estate or property management companies.
Property. Maintain intelligence about the properties you serve. Address, rental items standard (bed configuration), keys, occupancy, and delivery route order are all data used to improve process.
Print packing labels for linens needed
Load bags (bag tag) the night before so that cleaning service has what they need
Delivery and bed making service route mapped out for each person
Pickup list verified so can grab dirty linens on same route
Confirmation of delivery of linens and bed making service via photo and email confirmation
Push to Accounting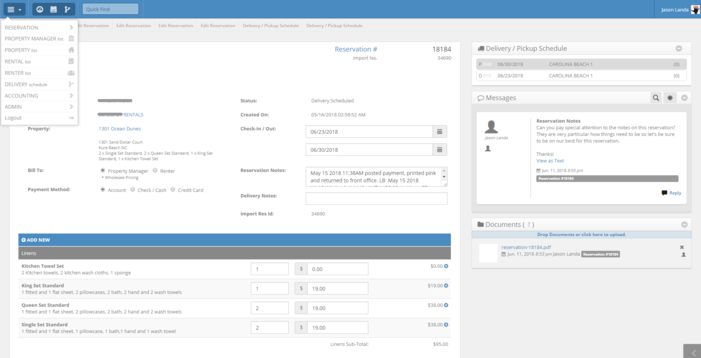 As a vacation rental manager takes on more properties, their time becomes more valuable than ever. The busy season stays the same, the number of hours in a day stays the same, but the number of guests and associated work per guest multiplies. A decision has to be made: do they hire more help, or do they try to be more efficient with what they have? Technology is finally making it possible for the professional VRM to be more efficient with less.