A custom content management system is the gateway to custom website development. Our development team has grown up on our CMS, which makes the sky the limit to evolving your website into a powerful web tool. However, are CMS is also easy enough for anybody to use, including you.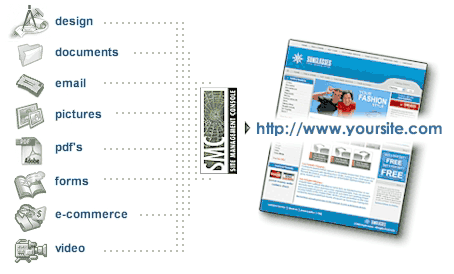 The SMC is a powerful tool for creating a result-focused website. Our custom website development team can turn your site into a powerful eCommerce website, make updating properties or products so easy a caveman could do it.
Our website development guys can also create an application for scheduling appointments, updating calendars, setting agenda, and much, much more.
Control, Manage, and Edit your Website's Content
If your business or organization desires the ability to control your website with an easy to use, flexible and scalable content management system, then the Site Management Console (SMC) is for you. Our web based CMS solution powers your website with a variety of powerful functionalities wrapped in an easy to use interface. The SMC not only adds dynamic, interactive and advanced functionality to your website, it puts you in control of it. Just some of the SMC functions our clients leverage on their website are:
Basic content and text management
Contact forms, information & survey forms
Document management and downloads
Photo galleries and slideshows
Video, flash and audio
Custom E-Commerce capabilities
Account management with usernames & passwords
Online ordering and order history
Industry portals
Advanced search features and filters
Printable brochures and PDFs
RSS feeds and blog integration
3rd party tools/services integration
Search engine optimization tools & features
With over 500 websites and growing built on the SMC, it is a trusted and valued tool for businesses of types and industries, universities, government agencies, non-profit organizations, and banks.
Contact us today to learn more on integrating the SMC into your website or building a new website with our powerful CMS tool.