---
Theme Website Design for Assay Hill Lodge Condominium Association
We recently implemented a theme website design for Assay Hill Lodge Condominium Association. Assay Hill Lodge is a condominium complex in Snowmass Village, Colorado that is owned and operated by Viceroy Hotels and Resorts. We created a theme website design for Assay Hill Lodge that can easily be duplicated for other home owner association websites that Viceroy Hotels and Resorts own. This will maintain a level of consistency for the Viceroy HOA brand.
When selecting a theme website desig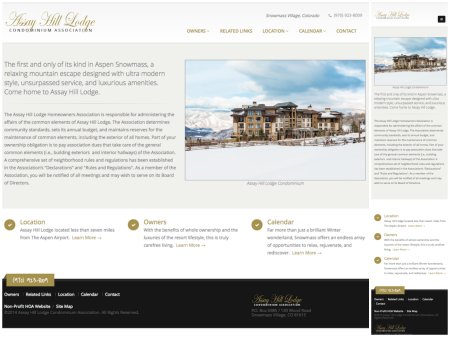 n for a client we needed to make sure that the template included all of the content areas the client needed. Lucky for us, we have done a handful of home owner association websites in the past, and Assay Hill Lodge HOA's content would be very similar. We selected a theme that would incorporate general content areas and easy to edit related links, images, and document uploads.
We also found a theme that was a responsive web design. This assured optimized viewing of the website on all devices. Mobile web usage is ever expanding, so it is very important for every type of business and organization to have a responsive website.
Once we found an appropriate theme and received approval of the general layout and functionality of it by the client, we were able to markup the theme with Assay Hill's logo and color scheme. This really made a the theme design unique for Assay Hill Lodge. We got approval on the markup and were able to move into the development phase of the project.
The website development portion of this project was fairly standard. We needed provide content portals that were easy to edit for the website admin. The website acts an informational hub for homeowners of Assay Hill Lodge Condominiums. So, content included important financial documents, list of events, and related links that would bring users to external websites with more information.
Being that there was some information on the website that would be for owners' eyes only, we implemented a secure login for owners. All home owners would receive the username and password to access any information behind the "Owners" section of the website.
Once we trained the website admin in on our content management system (CMS), she was able to easily enter all of the website's content in a matter of days. The content management system is very user friendly, so she had very little issues getting in the basic content that was needed to send this website design live.
Overall, this was a great project to work on with Assay Hill HOA. They received a great theme website design that suits their needs on an admin level, and Viceroy Hotels and Resorts needs on a transparency level with home owners.
This theme website design can easily be duplicated for other HOA sites under the Viceroy Hotels and Resorts umbrella. We will simply implement that same website and alter the color scheme and logo. This will provide a high level of consistency for all of Viceroy's HOA websites. It will also provide a high level of familiarity for the website admin. One CMS for all of the websites she manages.
We look forward to a continued partnership with this client for more theme website designs and all of their technology needs. This was a great addition to our web design portfolio.