---
A Real Estate Firm's Custom Web Design
Ranch Marketing Associates, located in Colorado has been one of the most successful ranch brokers in the west. It has always prided itself on excellent client relations, immense marketplace intelligence, and has even managed a strong global reach.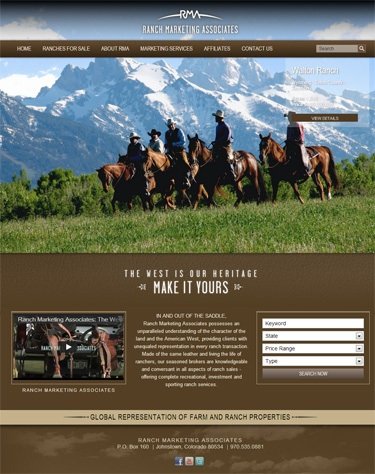 Such a prominent figure in the real estate industry needs to have the top-of-the-line web design and Internet marketing tools available at its fingertips. RMA Brokers approached Five Technology's partner Blue Tent Marketing for a new custom web design to enhance its web presence, increase functionality and usability, and most importantly to drive new business and increase revenue.
Blue Tent and Five worked together to create a design, build it, and integrate it into Five's custom content management system (CMS), the Site Management Console (SMC). This unique design is easy to navigate, professional, and it serves as a great way to showoff RMA's elegant properties.
Other great features of this real estate website included:
Increased content management and functionality.
Created drag'n'drop image capabilities.
Enhanced its search listings.
This new platform will allow Five to incorporate agents, listings, and data together for an even more comprehensive real estate website management solution in the near future.