---
E-commerce Web Designs: Let It Snow(mobile)
Our latest e-commerce web design projects come in a 2-pack and cater to the snow loving crowd. MotosportsGearUSA.com and SledGearUSA.com feature snowmobile clothing, gear and accessories for the snow and machine enthusiast.
MotorSportsGearUSA.com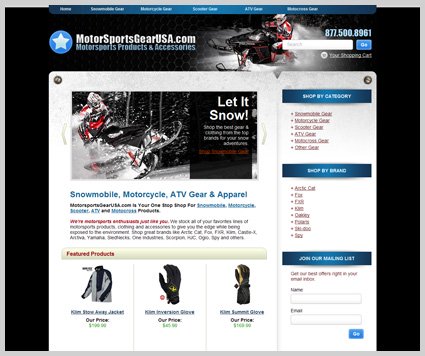 The Motorsports USA Gear site is the flagship of this e-commerce network of sites. The initial release of the site only lists snowmobile gear for sale, but will eventually offer ATV, Motocross and more.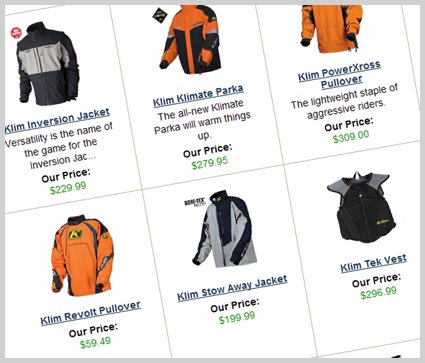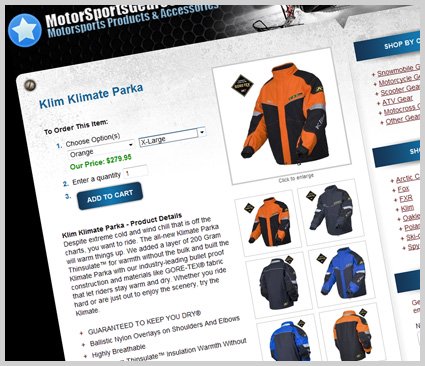 Brand Focused Websites
The other aspect to this site is that we are producing product line focused websites. The first one we produced is focused on Klim snowmobile clothing and gear. The main site will feed product information to each of the brand focused websites.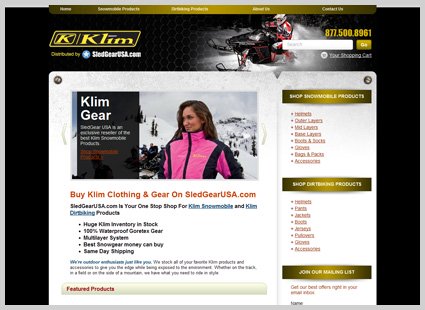 E-commerce Website Features
These e-commerce sites feature the following:
Custom e-commerce design (we also made the site easy to re-skin for the brand focused websites to follow)
Product catalog & shopping cart
Multiple navigation locations for category, brand & search
Product preview & product detail pages
HTML sitemap & product sitemap
On-page SEO
Product options & product codes
Authorize.Net merchant account
We're excited to release these new e-commerce web designs and make winter a little more fun.
View http://www.motorsportsgearusa.com