---
Web Design Project: Johnson Mattson Peterson + Co. Accounting Firm
The latest web design project from Five Technology is for the accounting and cpa firm of Johnson Mattson Peterson + Co. located in Buffalo and Waconia, Minnesota.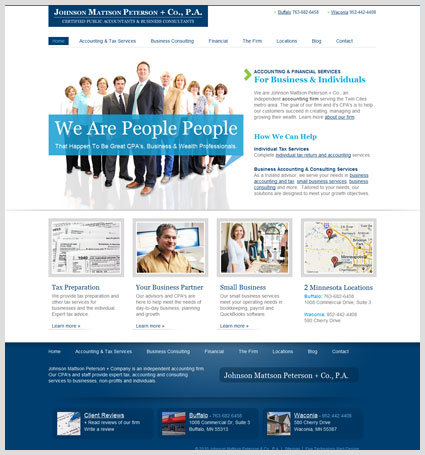 Johnson Mattson Peterson + Co. provides accounting and tax services to businesses, non-profits and individuals. Their old website was just a handful of pages in a stale accounting industry template.  The new website is clearly organized with multiple routes of navigation to find what you're looking for.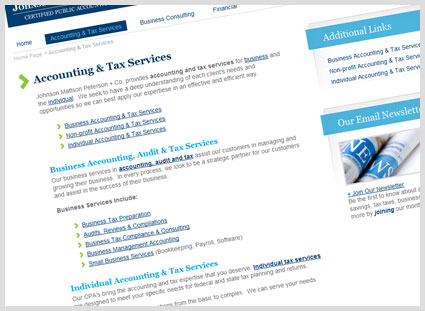 The firm also offers a robust range of business consulting services.  JMP + Co. has offices in two cities to the west of the Twin Cities, located in Buffalo and Waconia.  We made sure to offer clear information and integrated Google maps on both office locations within the header, footer and office pages to make working with them easy.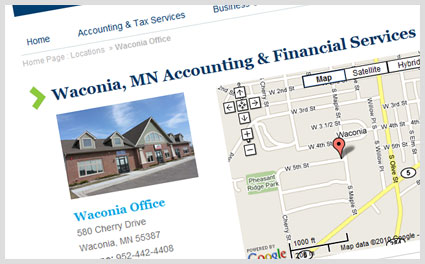 A Web Design To Avoid The Norm
When working with firm partner and CPA Casey Mattson, it was clear that JMP + Co. was not the standard CPA firm. Our first goal was to drive home the people, personality and engagement level you'll find with them.  Getting the staff front and center with the "We are people people" statement felt like a great fit.  We had fun taking the photo and also creating this clean and well organized web design.
Recap Of This Web Design Project
Custom web design
Photography
Content management with the SMC
Search engine optimization
Local search and customer reviews
Enhanced location pages
Internet marketing consulting
The Johnson Mattson Peterson + Co. web design project is a great web design and website if we say so ourselves.  Five didn't deliver the "normal accounting" website and that was the point.  Who wants to look the same as everyone else when you're not?
Visit the website: http://www.jmpcpas.com