---
Custom Website Design for a Local Law Firm
We recently finished up a custom website design project for a Saint Michael law firm that included a unique element of custom website development that will make this business stand out from the rest.
Gries Lenhardt Michenfelder Allen (GLMA) was in need of a website redesign, a logo redesign, and some custom website development. GLMA's old website design was outdated and its logo needed a major revision because it was going under a name change; Gries Lenhardt to Gries Lenhardt Michenfelder Allen. We also, wanted to spice up the website to give their clients and potential clients easy-to-access information regarding each attorney.
We started the process by designing a new logo for them that would be used on their website, business cards, and letterheads. This new logo design represented their brand and showcased GLMA's name change. We went through a few rounds of revisions and finally found something that will professionally represent their brand.

We then jumped into the custom website design side of things. Beginning with a wireframe layout of the site, and then used that wireframe to build a Photoshop mockup of what the website design would actually look like. This gave the client a great grasp on the look and feel of the website before we built it out onto our content management system (CMS).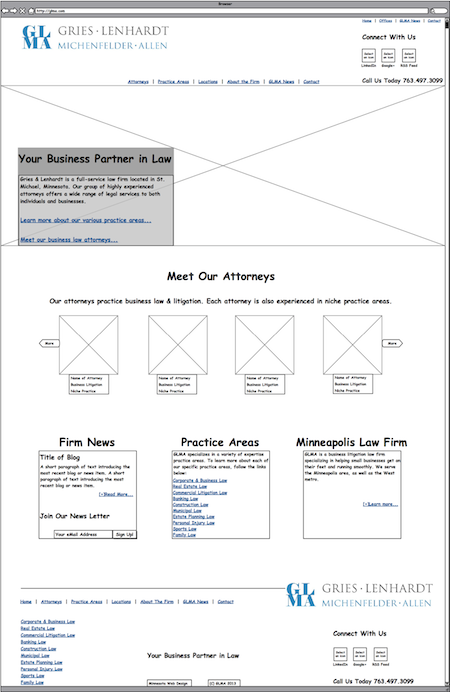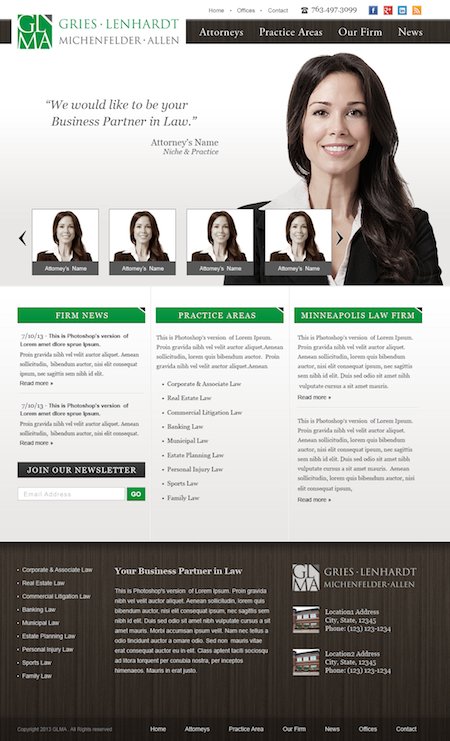 Once the design mocks were approved we moved onto building the custom website design into our CMS. We finished up the custom website development part of it and helped the client enter all the content so that it was good to go live.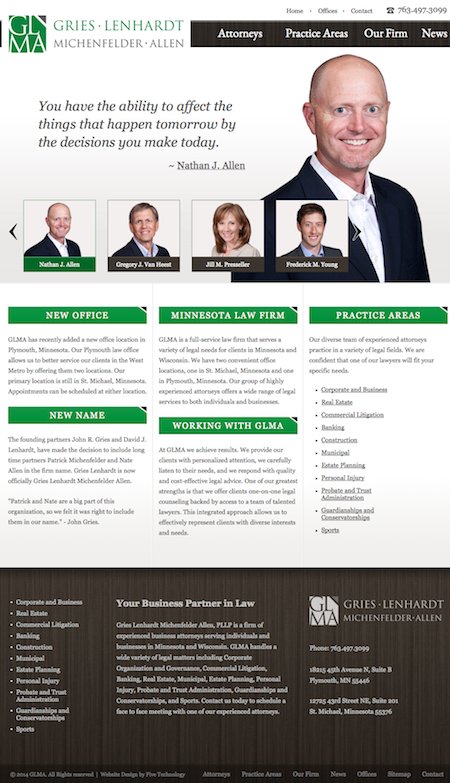 The custom website development portion of this project was initiated to accomplish the goal of offering easy to access information about the attorneys and their services to GLMA's customer base. We developed custom attorney profiles for each lawyer that would conveniently display the attorney's credentials, bios, and areas of expertise.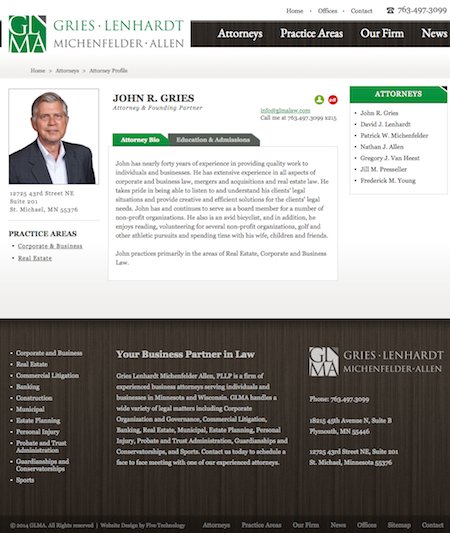 These profiles also provided contact information for each lawyer, links to their LinkedIn profiles, and a print to PDF link that would display all of the information from the profile in an easy to view PDF.
This custom website design partnered with the custom website development that went into this project should provide GLMA a better presence on the web, and much better ways to communicate with clients and potential clients.
The rebranding efforts of implementing a new logo and custom website will help GLMA to better promote their brand and services. Clients and potential clients will now be able to use the website to learn more about GLMA's areas of expertise and their individual attorneys.
When researching companies online, especially service oriented companies, it is important to convey a sense of identity and personality. The custom attorney profiles that we developed for this project will do just that. New comers can research each attorney to see if they fit their needs, and even easily print off the information for later use.
This custom website design will convey a sense of trust and expertise, as well as professionalism. The goal is for these things to draw in more leads and enhance GLMA's business.
The next step in online success for GLMA would be to explore some advanced Internet marketing strategies. They should select a few of the practice areas that they want to generate more business for and find relatable search terms that would help boost their rankings in Google.
We look forward to our continued partnership with this local law firm to enhance their web presence even further.