---
E-commerce Web Design Project for little dreamers
Colorado monogrammed gifts retailer, little dreamers, has big ideas for their new e-commerce website that went LIVE last week. Business owners Nicole and Paula sought a better web design to brand their unique monogrammed baby gifts and more and they needed it powered by an easy to use content management system and e-commerce solution. Five's custom web design coupled with the SMC was just the right solution.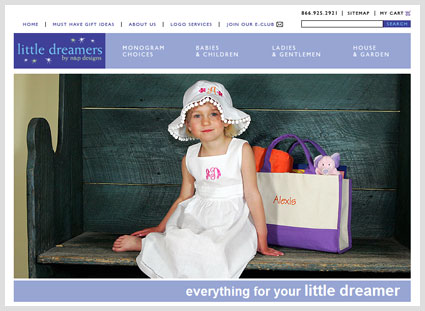 Some of the project details for this e-commerce website were:
Custom web design
SMC for content & e-commerce management
Enhanced product detail page visuals, details & options
Layered item option selections for monogram options
Payment gateway integration with PayPal Pro
Search engine optimization & SEO friendly URLs
Email marketing integration & web analytics
Project, usability & e-commerce consulting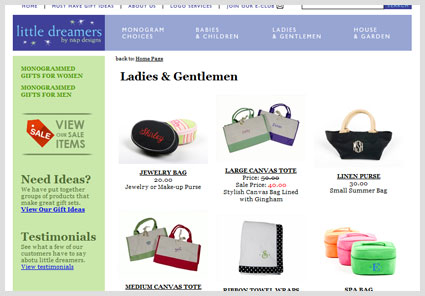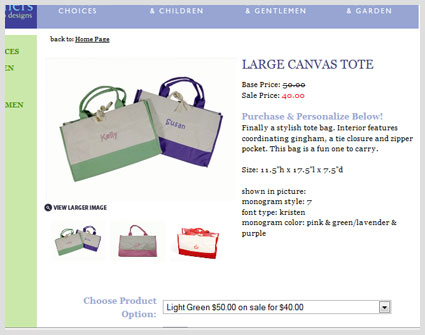 The complexity of the monogram options definitely gave us a challenge (great work Josh and Travis) that led to a longer production schedule then expected, but the final outcome more than makes up for it. Many times during the process and content entry phases, little dreamer's commented on the ease of use the SMC offers and their excitement over launching the new design. We're excited to see how our work impacts their business too.
See the new little dreamers website for yourself, maybe even get a unique monogrammed gift for someone you know and if you are looking for a fabulous e-commerce web design, give Five a shout!