---
Get More Features, Control & SEO Friendly With A CMS Conversion
Not every project for Five involves creating a new web design.  Sometimes a company will come to us satisfied with their design, but in need of better technology to run it.  We can convert an existing website to our content management system (CMS) and improve numerous areas.
Streeter Companies, a Maple Grove, MN Commercial Property firm came to us with this situation.  They were satisfied with their current web design, but wanted to be able to change web content themselves, get more traffic from Google and offer more features on the site for users.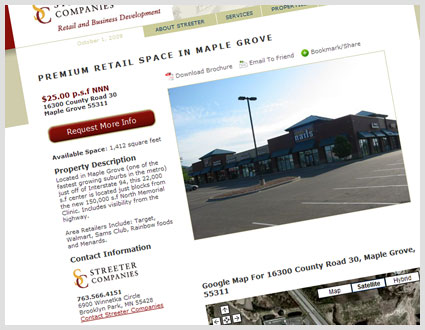 The Website CMS Conversion Provided:
Control – Streeter can now add new pages to their website, new property listings, change or add photos and more. Our SMC tool gives them complete control of their website.

Features

– Streeter's former website only allowed them to display a PDF and a few details on each property for lease. We upgraded each listing to display photos in a slideshow, interactive Google maps of the location, overview text of the property, auto PDF flyer creation, contact forms and social sharing features.

Search Engine Friendly

– The move to our CMS upgraded the Streeter website to keyword URLs, HTML & XML sitemaps, semantic content structure and internal linking.  These SEO enhancements are the start to their website earning better trust and rankings from the search engines.
So if your web design is acceptable and you need a better web platform for control and to build upon, give us a shout about converting to our CMS.