---
10 Must Haves for Your Non-Profit Website
Building a nonprofit website for your organization can seem like a hefty process. There are many things to consider to include in your website. Here are ten must-have features that can make a successful nonprofit website. Although every nonprofit website is different from one another, these ten features are sure to draw in attention and engagement from your supporters.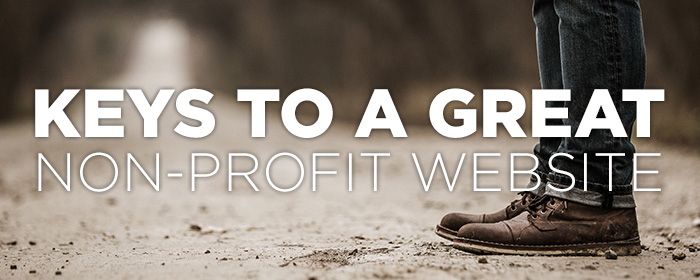 User Registration
User registration is an excellent feature for your nonprofit website. It enables serious visitors to establish a long-term connection with your website. The serious users provide you the basic necessary information that identifies them. That allows you to give these users a more privileged access to your website, and share more information with them. It also generates good leads for your nonprofit in the long run.
Event Calendar
The event calendar helps visitors to stay updated of any upcoming events that your organization may be doing or is associated with. It is a good way to promote your events. At the same time, it also gives advance information to the interested people who may like to associate themselves with your events.
Discussion Forum
You can make your nonprofit website more interactive and participative by providing a separate section for discussions. It can be a moderated forum, or it may allow only registered users to participate, depending upon your needs. It allows members to know each other, and creates a sense of community and belonging among all the participants at your website.
Opinion Polls or Interactive Quizzes
Spice up your nonprofit website with interesting information in the form of an online quiz that is relevant to your nonprofit's mission. It prompts the visitors to engage with your cause in an unique manner. Opinion polls can be an equally interactive option for your website. They can also help to highlight the issues or causes that your nonprofit may need to address.
Online Donation Acceptance
Your nonprofit organization depends volunteers and donations from others. Make sure that your website has the ability to accept online donations through your site. The "Donors Button" should be placed somewhere easily visible on the homepage and other pages of your site. It helps to translate the potential donor's desire into real action.
Content Management System (CMS)
An online Content Management System (CMS) can help you manage the various streams of information and data on your website easy and efficiently. It allows the website manager(s) to update and maintain the information in a very organized manner.
Blog Feature
With your own website, you can have an exclusive blog of your own. Blogging is a great way to inform and keep your audience active with your organization. It can also have the provision for readers to comment on and share your blogs via social media channels. Having a blog will definitely improve the dynamic content of your website, and help from an SEO perspective as well.
Social Media Integration
Internet marketing for your nonprofit cannot afford to ignore the growing importance of social media channels any longer. If you have a presence on social networking websites such as Facebook, Twitter, or Google+, your website can provide a direct link to it. Social media sites allow you to post recent photos or posts that are relevant to your organization, making volunteers and others to be excited about what you regularly post. The readers can better connect with you seamlessly through these networking sites.
E-Newsletter Subscription
People who visit your nonprofit website may also be interested in receiving regular updates and information directly into their mailbox. For such visitors, you can make a provision for a periodic e-newsletter. The content can be used from your website and blog and delivered via email to subscribers. It's another great way to maintain active contact with your supporters.
Contact Form
There should be a feature on your website for any visitor who may like to leave his/her contact information with you. This help to build your database of relevant contacts/leads over a period of time.
At Five Technology, our goal is to help create a great website for your nonprofit company through a custom website design. If you'd like to design or redesign your organization's website, let's get started!