---
5 Theme Website Designs for Churches
Churches are needing quality websites more now than ever before. They face a problem where they need to reach out to younger generations in different ways. The way to effectively do this is through the Internet. Churches can use their website to attract new members and then communicate with members to keep them updated and informed.
They can even use the website to receive donations, promote events, and collect forms for volunteer opportunities and sponsored events.
However, these organizations typically have strict budget restrictions due to dependence on donations and funds going to various important elements of the organization.
In some cases when an organization is in need of a quality website but does not have a substantial budget to implement a custom design, a theme website design may be a suitable option. Five can help you determine what option would be a best for your website.
Themes have become very popular in the web design industry. Websites like Theme Forest and Template Monster have thousands and thousands of great theme designs. So, why not choose one that works for your organization.
Here are some quick tips on selecting a theme design:
Focus on layout and content areas. Look at each theme as a blueprint to how your website will layout. Colors and images can be altered but layout is harder to change.
Be sure to choose an HTML formatted theme. This allows it to be easily implemented into any content management system.
Be sure that there are page templates for all of your content needs (i.e. blog, shopping cart, portfolio, etc.)
Below are 5 amazing theme website designs for churches that we found. Any one of these could be a great option for a church website. A great theme design built on our content management system (CMS) can be a great tool to promote your organization and obtain/retain members.
These are just five options that we found for churches. There are several more out there that could work for your organization. We can work with you to find a website design theme that fits all of your needs, and if we can't find one then it's time to consider a custom website design.
The Church Responsive Template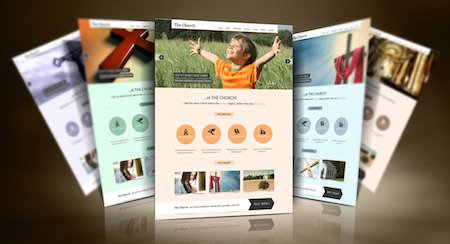 This responsive church website would be a great fit for any church looking to enter the modern world wide web. It is a sleek design with a variety of content areas put together in a very user friendly layout.
It has content areas for services, which could be used for different programs that the church offers. It has photo gallery capability, a unique events schedule, and a blog/news feed.
It also has some pretty cool modern features that could set a church apart from other churches in the area. It has a charity indicator that displays how close the organization is to a certain donation goal. This includes a link to donate money to the cause.
It also has an area to upload mp3 files like sermons, podcasts, or songs. How cool would it be to be able to download the Sunday Sermon?
This theme website design is also responsive, which means that it will look good on tablets and smartphones too!
Evangelist – Church HTML Theme
Another great responsive theme design is the Evangelist. It has a nice clean header with an area for a hero image and a sidebar for an upcoming events feed.
It has content areas for mp3 and pdf downloads that could be used for sermons or prayer books and 3 main highlights that could be used for promoting your main services.
Below the main highlights area it has a large news/blog feed and even a photo stream of recent images. In the footer, it has space for a social media feed and newsletter signup.
Overall, it's a very clean and simple design/layout, but could be a great fit for any church.

Bethlehem – Church Bootstrap HTML 5 Template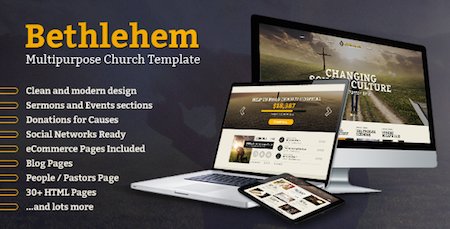 Bethlehem is a very robust theme website design. It provides a clean and modern design that includes a sermons and events section.
It is social media ready and has great design and functionality for eCommerce that could be used for donations, event registration, or even selling books and other products.
It comes equip with eCommerce page templates, blog page templates, and people/pastors pages.
Reverence – Church Responsive Theme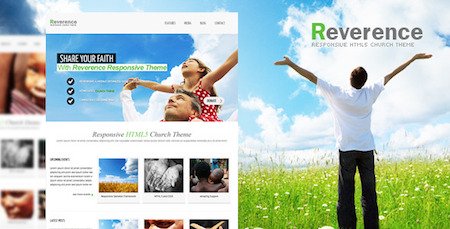 Reverence is another great responsive theme website design built with HTML 5. It could be used for churches or charities.
This theme is pretty adaptable to your specific needs. It comes equipped with several homepage options and over 20 page templates with other customizable features.
It also has content areas for a news/blog feed and upcoming events to better promote your charity or organization.
Ray of Light – Religious Website Theme
Ray of Light is a great looking theme website design for any church. It has a variety of unique design elements that gives this theme a custom look and feel.
It comes equipped with 15 different page templates, simple and easy image galleries, and is supported on all modern browsers. It can be easily customized to meet your expectations.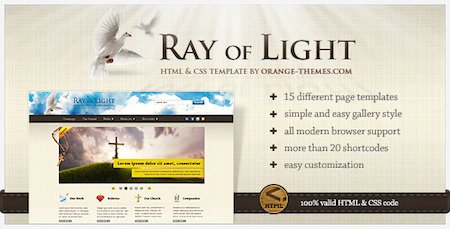 Any of these websites would be a great upgrade for many churches and other non-profit organizations. All of these are responsive web designs that will look good on all devices. All of them are built with HMTL5 so you would be getting the latest and greatest web standards with your new site.
Five Technology can easily integrate any of these designs and more into our content management system to give you a professional design with a powerful backbone.
Partner with us today to implement one of these, or one of the many thousands of theme website designs, for your new website. It will bring your organization into the modern web and provide a great online presence for obtaining memberships.