---
5 Things Website Designers Do When the Internet Goes Down
This morning the Internet went down at Five Technology. When all of your work is web-related, there is not much to do in these instances. As website designers and website developers, we were left stranded with no Internet and no email.
Instead of doing the things below, we took a different route.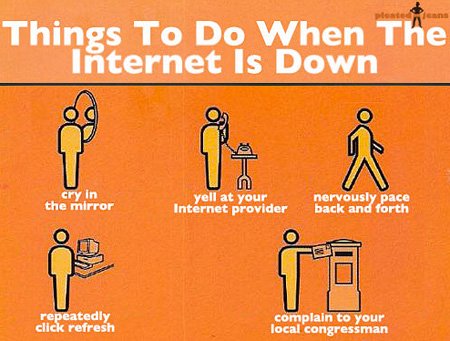 Here's what we did instead:
Talked about current projects
We were able to take some time and catch up on each other's projects. It was nice to have some time to casually discuss current and upcoming projects with one another. A lot of website design work is broken down into individual assignments so it is nice to hear how those tasks are progressing and how they will benefit the overall website design project.
Yes, we have weekly meetings to discuss project progression, but it's nice to get into a little bit more depth every once in awhile.
Caught up on the weekend news
The break from the Internet gave us some time to catch up on each other's personal lives a bit. We discussed the football games from last weekend and talked about how maybe we will see the Vikings back in the playoffs, eventually (emphasis on maybe). We talked about movies, kids, and family activities that went on.
As a website design firm in Minnesota, you can imagine we spend a lot of time in doors especially during the winter months. But this past weekend we finally got some warm weather so it was fun to hear about what everyone did to get outside a bit.
Played darts
Games are a great way to blow off steam and relax. We have a company dart board that gets a lot of use especially during stressful projects and when the Internet goes down. Taking your mind off the daily grind for a bit and throwing sharp objects into a piece of cork is a great way to relieve stress and even spur some creativity to get website design projects rolling.
Complained about the Internet being down
Here at Five Technology we have a lot hard workers so when we don't have a way to get the work done some of us get antsy. Even though it was nice to get a short break on a Monday morning, we heard quite a few complaints or at least questions about when the Internet was going to be back up.
Your website designs are important to us, so we were anxious to get back on the web and start cranking out some projects.
Discussed new ideas
The break in the day also gave us some time to discuss new ideas for our upcoming website design and website development projects. We have a wide variety of client types and we're constantly thinking of ways to improve their online success. So, it was nice to have some time to get some of these ideas out in the open and discuss how we could begin to implement them.
Even though the Internet going down meant that we couldn't do a lot of our work for a little bit, it was nice to have a break in the day, especially being it was Monday. It gave us some quality time to catch up on projects and personal life, but also gave us a bit of time to discuss and generate new ideas.
Sometimes an Internet free hour is all you need to get motivated for the week and get the creative juices flowing. We're looking forward to the current website design and website development projects that are in the works.