---
A Payroll Company Website Design: Source 5 Payroll
Source 5 is an Atlanta, Georgia payroll company that offers customized payroll services for your business.
Source 5 came to Five because their old site was out dated, some pages didn't even work correctly, and most importantly they needed an effective online marketing agenda.  Five created a modern, beautiful design, and then built their site on a foundation of solid fundamentals that will help them rank in search engines immediately.  That will not be satisfactory for Source 5 however, as we have a 12 month agenda for their internet marketing and SEO moving forward.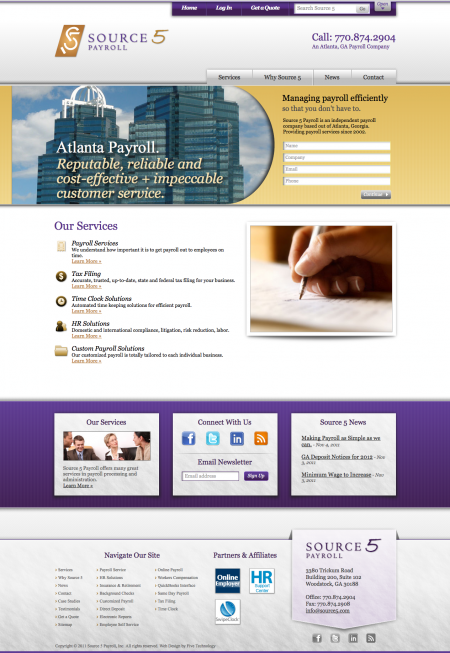 Site Features
Get A Quote form to assist Source 5 to gather information quickly, and allow them to create quotes for clients.
WordPress blog with RSS Feeds so people can stay up to date with latest payroll and source 5 news.
Integration into CMS allows Source 5 to easily make updates to their site without any knowledge of the back end.
Social Media profiles were set up to allow Source 5 to easily communicate with clients.
Case studies & testimonials pages allow Source 5 showcase their work. These can be easily added and updated with our CMS!
SEO friendly design, coding, and structure.
Visit: http://www.source5.com