---
Basic Online Marketing: The Sandwich Board of the Internet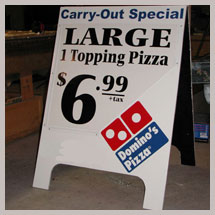 I read a USA Today article this week about small businesses using sandwich board signs to attract more business and the issues some city governments/councils had with them "cluttering up" the streets. More businesses are looking to increase the ways that they attract customers past their existing signage in these economic times and the sandwich board is one of the cheap basics. I'll stay out of the politics of the article, but it got me thinking about the online equivilant of a sandwich board.
So what is the Online Marketing Sandwich Board?
I don't have the exact answer … but I do have the following to consider.
A Single Page Website
I do believe that small business can get away with just one very informative page for a website. There are obvious drawbacks, but simple done the right way can go a long way. You can have an easy to use layout covering who you are, what you do, specialties, hours/availability, map and how to contact you. This web firm has a great one page website. I know there are other services for one page websites out there for small businesses.
Small Business Blog
Many businesses today skip a website and go straight to business blogging. This St. Paul cookie company is one example and there are many others. With free sub domains through WordPress and Blogger you can have a free site up and running in minutes.
Online Directories
In some industries like restaurants, some small business are utilizing the abilities of a profile page on Yelp, Dex or another web directory as a home page/website. With the ability to add text, photos, logo, hours and more and built-in maps, directions and reviews, these sites can have everything a business wants. Most of these offer a pretty clean URL to advertise offline, an example is: http://www.yelp.com/biz/la-belle-vie-minneapolis
Social or Networking Websites
Depending on your style or type of business maybe you can get buy with a LinkedIn profile, Facebook or one of the many other flavors of web 2.0. Many bands and music peeps have used MySpace for quite some time as their home on the web.
Do you have anymore to add? There are more and will certainly be more basic and entry level web tools coming online this year and it will be interesting to see what grabs hold. My opinion is to develop a great website and then utilize some of the basics outlined as landing pages to drive more traffic to your website.