---
City Website Design for Delano, MN – Online Agenda & Meeting Minutes
With the first quarter coming to end soon, I wanted to shed some light on a city website redesign that was sent live back in February. The web development project, of course, being the official city of Delano's government site.  While this online marketing project included web design, custom web development, content management, etc., I want to give some attention the online Agendas and Meeting Minutes application.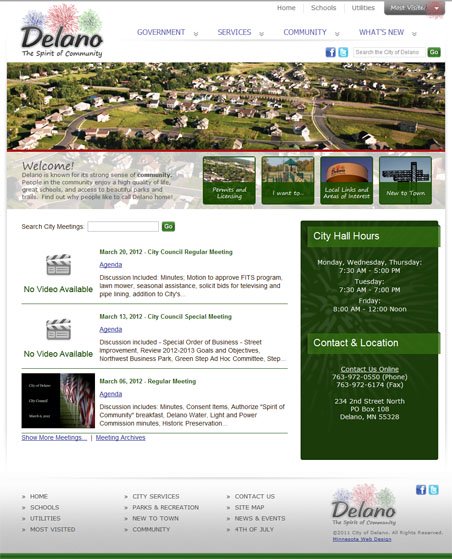 Custom Programming for City Government
With the new website design also comes new opportunity for the city to create and manage agendas and minutes online.  While featured on the home page, the custom online application for meeting management can also be found under the Agendas, Minutes, and Videos page of the Government section of the website.
Migrating city government meeting Agendas and Minutes online has major benefits, some of which include:
The ability to manage meeting agenda in one central spot, and generate various dynamic content from that online data.  Examples include online PDF' documents, associated meeting video, as well as other interactive html content to make for a rewarding experience.
The ability for the searchable meeting agenda and minutes content to be searched directly from the site, so people can hone in on exactly what they are looking for.  This is typically difficult to do with traditional PDF meeting minutes.
Eliminating the need to manage/organize multiple PDF documents in various directories or pages of the web site. Select what department the agenda is for and presto, it appears in the meetings section of that department of government page.  With a check of a box the agenda and associated minutes are archived in a reserved section of the site for archived meeting minutes.  It's that easy.
There are other possibilities for this type of city government document management, as we hope not to limit this custom web development to creating agendas and minutes.  Five Technology is in the process of developing an in-house custom web solution for creating  proposals with associated scope of work.  Details of the scope of work are seamlessly pulled into the project and task management system upon sign-off of the project.  Bringing repettitive city government processes to the web not only make your organization more efficient, it provides a means for online interaction with your team as well as the residents of your town.
In short, we are very excited work with more city government web projects as they not only make your city more efficient, but also pioneer a new way for residents to access information and interact with the peers, content, and the community around us.