---
Converting Your Website To A Content Management System (CMS)
You need a change, you need control of your website. Maybe you have depended on a webmaster or an internal employee with some web skills to make updates to your website, but it no longer is the right method. You want things to happen quicker, you want to enhance your content and functionality and you've heard it can be done without knowing all that HTML stuff. You want a content management system and you've heard right, it can be easy.
Five uses a content management system called the Site Management Console (SMC), developed by our parent company, Intrcomm.
In simple terms it allows your organization to fully control your website, without web skills … add pages, edit text, photos, create online forms and more. On the complex side of things it can handle just about anything you throw at it from e-commerce to user accounts to database integration.
We usually integrate our SMC tool when we are doing a new web design or a website redesign, but sometimes we will just integrate an existing website design into the SMC. Below is an example of a basic conversion to our content management tool we just did this week.
Content Management System Integration Example
National Wall, a concrete wall systems company, had contracted another firm to build their first website just last year, but they soon needed control to update the site with more information. In reviewing their website, we could see they had more areas for improvement, but getting them control was first and foremost.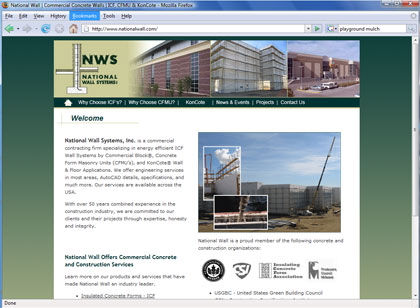 National Wall's SMC enabled website has only been up for two days, but in that time they have already:
Below is a screenshot of the SMC console for editing basic page content. As you may notice, it's similar to creating or editing a Word document.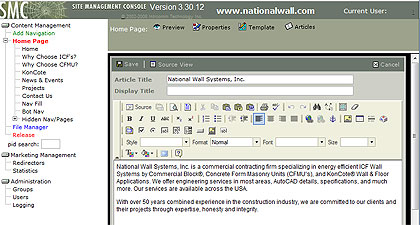 During the SMC conversion process we also corrected some of the site's structure and usability issues making it a little more attractive to the search engines as well as users. There is still work to be done down the road on the interface design and SEO, but it's much better off today then last week. If you have the need for control of your website, drop us a comment, a contact form or call us.