---
Custom eCommerce for a Minneapolis Company
Most eCommerce websites are pretty straight forward. You have a company that sells a product and its customers can buy the products online and have it shipped straight to their door. But what happens when you have a company that has hundreds of products, sells only to businesses, and each customer has slightly different pricing based order amount and frequency? The solution would be a custom eCommerce website that you adapt to fit your client's needs.
Co-Rect Products is a wholesale distributor of bar supplies and custom imprinted bar products located in Minneapolis, Minnesota. They were in need of a website redesign with custom eCommerce functionality. They sell to other distributors, not end-users, so a custom eCommerce solution with particular specifications was a must. The first step in this project process was the design.
Co-Rect was looking for a custom website design that was easy to navigate through its hundreds and hundreds of products. This meant that there needed to be a good balance between creative graphic design and simplistic usability. Navigation is very important for eCommerce websites. If users can't find what they're looking for, they won't be buying anything.
Our first step was to divide Co-Rect's products up into about 20 different categories. We then created a homepage design that would include access to these different categories in several different areas. We included a mega-navigation with drop down menus of all product categories. We added a robust search area where customers could search by keyword, product ID, category, and sub-category. In the middle of the page we designed a product category slider, where users can see five categories at a time, then slide back and forth to see even more. The product categories are then included again in the footer as interactive links. All of these features combined will provide users with multiple methods to navigate to the products they are looking for.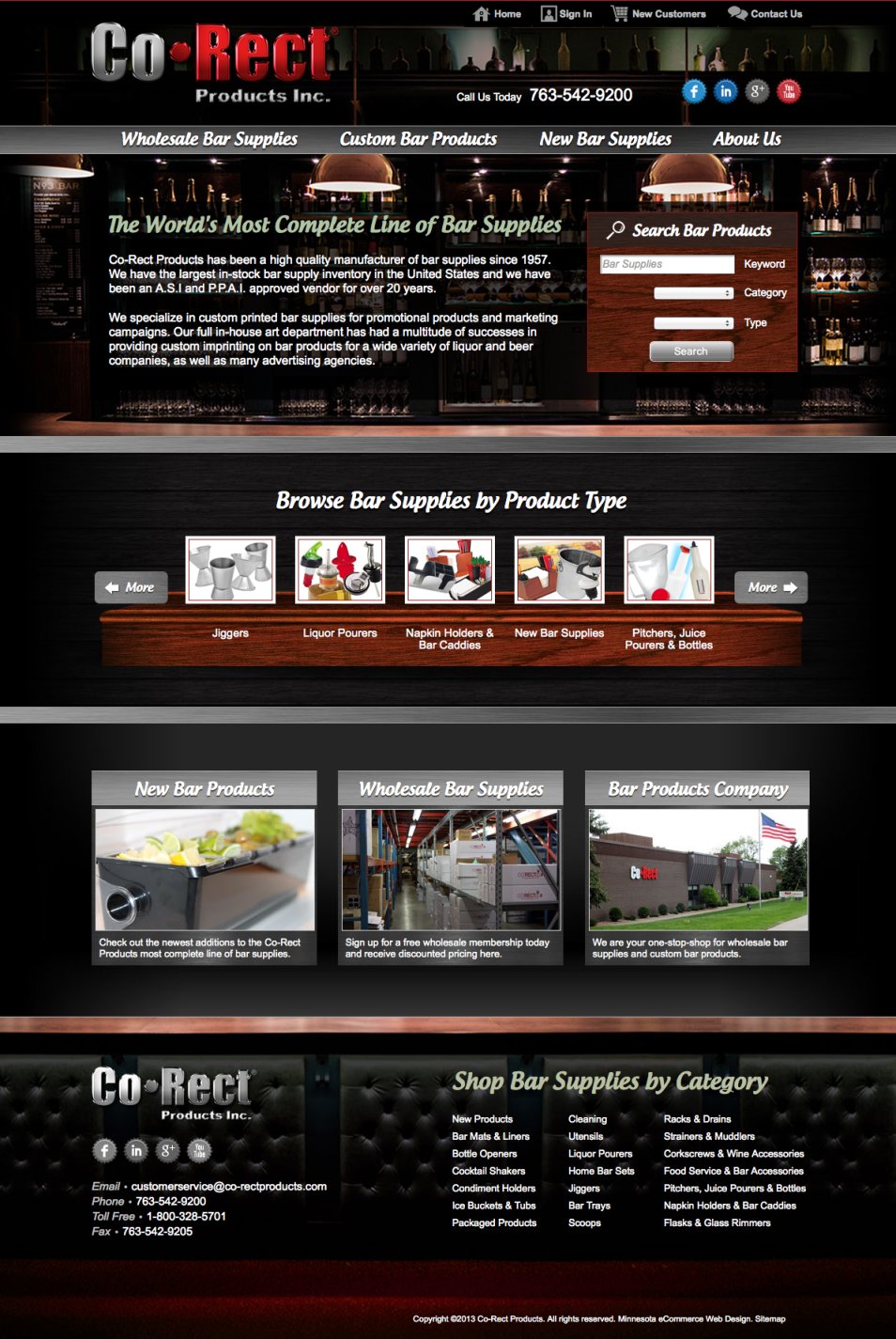 Content and photography are also very important factors in eCommerce websites. Companies need to display their products in a professional and clear manner, as that is they only thing customers are going off of to get a visual of the product they are buying.
We worked with Co-Rect to lay out a sitemap and a list of all its products, product categories, and other general pages like About Us, Custom Products, Contact, etc… and then figured out what photos we needed. With almost 500 products, we soon found out that we needed a lot of photos.
Co-Rect hired a professional product photographer to photography all of its products, and also create group photos of the product categories. These professional photos really helped to enhance the look and feel of this eCommerce website.
We provided an enhanced product plug-in for Co-Rect so that they can easily add products, images, descriptions, and even include different options and pricing for products. For instance, a bottle opener might come in seven different colors all with different pricing.
Co-Rect is an interesting eCommerce client due to the fact that they have custom pricing for almost every customer. Pricing depends greatly on quantity and frequency of orders, and with hundreds of customers it would have been difficult to implement custom pricing for each one on the website.
To bypass this curve ball, we priced everything as the list price for each product. This way  Co-Rect's customers can show their customers the "retail" price of each product. In order to receive quoted pricing, customers build orders like your typical eCommerce website, then submit it. From there, Co-Rect sends the customer a quote for the products they ordered. When customers confirm this quoted price, the order is then processed.
Essentially, this website serves as an easy way for customers to build and submit orders, track the progress of orders, and conveniently submit re-orders. They can do all of this through the comfort of their customer dashboard.
Co-Rect Products is strictly a wholesale vendor, which means it can only sell to other distributors and not end-users. This added a level of authentication that was needed in order for customers to submit orders. We created a "membership" registration form that allows customers to qualify themselves as a real business so that they can log-in and build/submit orders.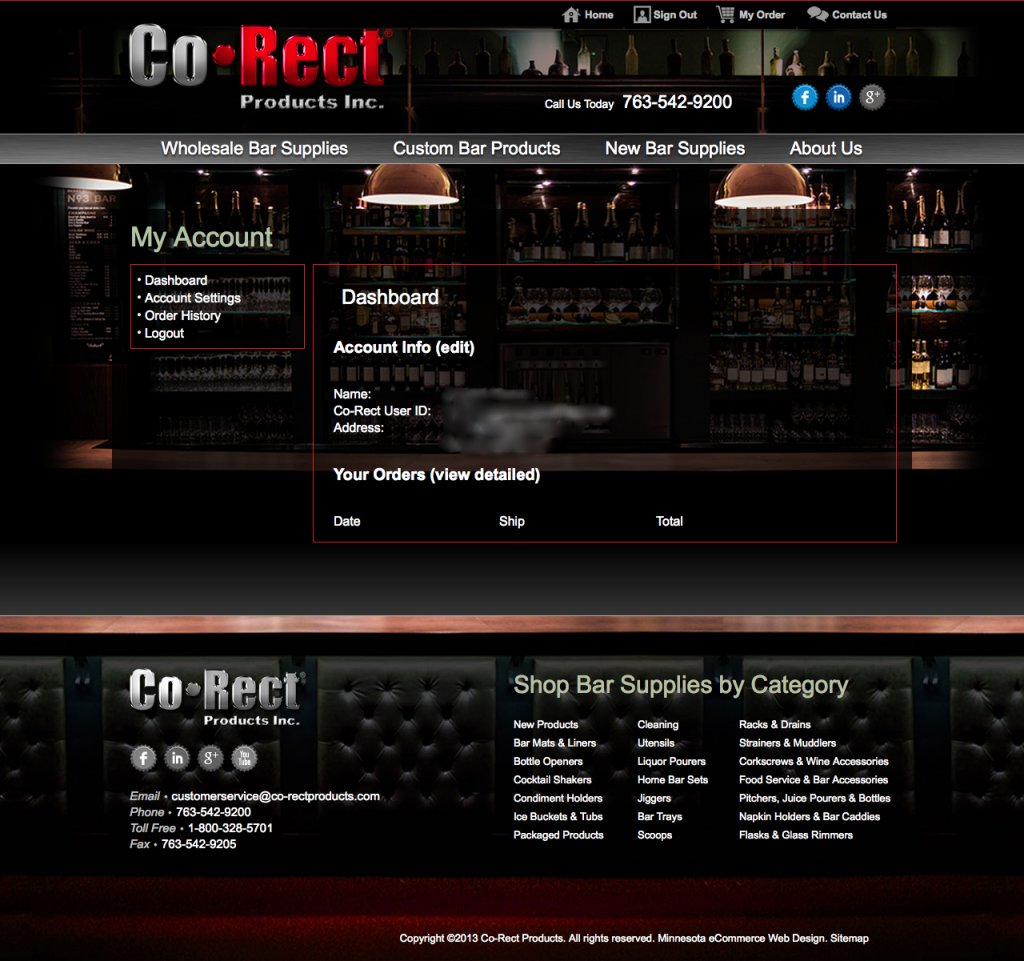 This log-in information also gives them access to their customer dashboard where they can track orders, view progress of current orders, and even re-submit past orders. This will enhance the convenience of ordering if customers have the same order every time, they won't have to re-build their order every time.
Down the road there are many custom website development opportunities for Co-Rect to pursue. Co-Rect could create tiered customer categories to try to manage its custom pricing. For example, they could have a premier group with a 15% discount, a standard group with a 10% discount, and a basic group with a 5% discount. Then when these customers would sign in they would see their group's pricing. This would allow C0-Rect to still have custom pricing, but also be able to process orders entirely through its website.
Co-Rect specializes in custom imprinted bar products. However, as it stands now, customers have to call in to get quotes for these custom prints, and also have to email back and forth to get logos and proofs. Down the road we could implement a design studio into the website, where customers could see what their logo would look like on any product.
We could also integrate a file management system into the site where customers could upload their logos and Co-Rect could upload its proofs. Either of these options would increase the ease of communication between Co-Rect and its customers.
Overall, we feel that this custom eCommerce website turned out exceptionally well. It is one of the most robust eCommerce websites we have designed and implemented to date, and we look forward to doing many more websites with eCommerce functionality. We also are looking forward to our continued relationship with Co-Rect to develop their website as their web based needs continue to grow.