---
Double Your Search Rankings: Local & Organic
I wanted to share one of the local search examples I shared while presenting at Local University earlier this month.  A small business can gain a solid edge by ranking well with their local listing as well as their general organic search ranking.
Here is one of our clients, a CPA firm with 2 offices that have earned top rankings in both the local and organic results.  Their positions are boxed in red.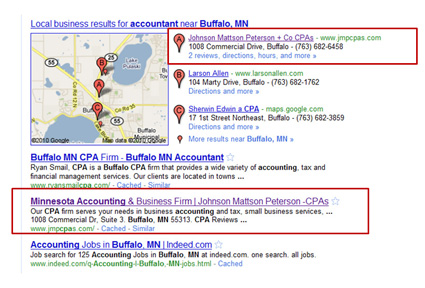 Consider that the user not only has 2 links to click into to bring them to their website or more information on their business, but they greatly climb the user's trust curve by being seen multiple times on the page.  Here are the results for their 2nd office.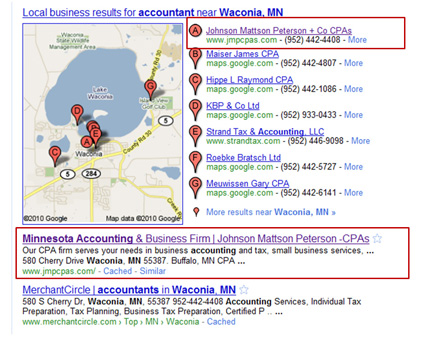 Occupying more of the search results page real estate should be the goal of any business.  The first step is understanding that local search and organic search are two separate things with separate elements and ranking formulas.
Your local search listings are generated from how your business is registered with the engines as well as other online resources. A great step to start with for many businesses is using GetListed.org to verify if you have claimed your local business listings with the major search engines.
With the combination of local search and organic search results working together, you can greatly increase your website's exposure.