---
E-Commerce Web Design: Surviving Mold
Five Technology's latest web project is for the book Surviving Mold by Dr. Ritchie Shoemaker. Surviving Mold was written with the goal to help heal people with mold related afflictions. Surviving Mold gives people suffering from these afflictions living in mold damaged buildings the information they need to change their lifestyles and literally survive mold.
The site features a custom web design, e-commerce store, wordpress blog and a custom web app.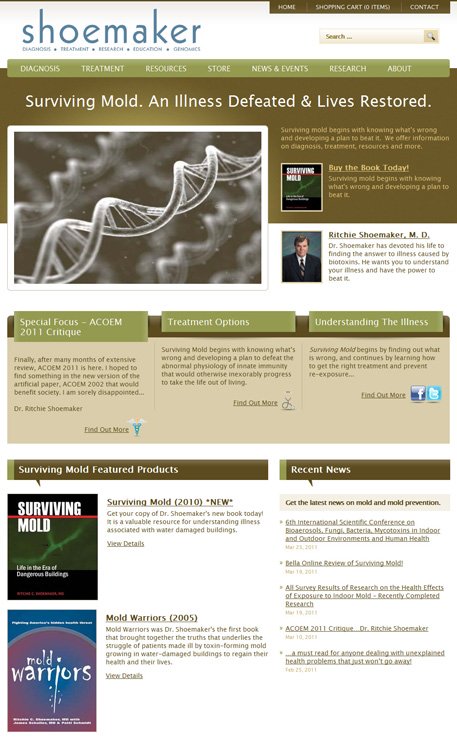 E-Commerce
The website features a store by which Surviving Mold is sold as well as other books and presentations by Dr. Ritchie Shoemaker. A shopping cart is utilized to easily guide customers from the moment they add an item to their cart until the checkout process is complete. This site has been live for a few months and the results have been impressive.
Web App
The VCS (Visual Contrast Sensitivity) Test is a web app allowing people test for a neurological deficit associated with biotoxin-induced illnesses. It tests the user's ability to detect visual patterns by taking the test once with each eye while the other is covered. This web app ties in with the e-commerce feature. There are different pricing options based on how many tests you want to take and you can track your results over time. The results can be printed out so you can take it to your physician.
View the site: http://www.survivingmold.com