---
Ecommerce for Horizon Retail
Horizon Retail Solutions provides retail chains with software for point of sale, purchasing, distributions, and operations.  L&M Supply is a fleet supply store with 8 locations in Minnesota and Wisconsin that utilizes the Horizon software suite.
When L&M Supply decided to establish an online location to increase sales revenue, they knew they had to integrate their custom ecommerce website with the Horizon system to ensure efficiency.  Having a separate system to manage online inventory was not an option with over 10,000 SKUs, so the two systems had to talk.  Horizon was doing a great job with point of sale, inventory, distribution, etc., but there wasn't an eCommerce component for Horizon that allowed L&M to easily push inventory to the ecommerce store.
Five Technology's team of developers and software engineers have extensive experience integrating with 3rd party systems and APIs, so they were up for the challenge.  Quickly in the process we knew we would be able to establish a line of communication from Horizon to the ecommerce store.  This would allow the content management system to pull important data such as SKU, price, short description, part number, manufacturer, etc. from Horizon.  While the online store would need more "enhanced" product data to effectively sell online, we had the base data for building the online store.
As part of the building an ecommerce website from Horizon data, a few challenges present themselves.
Firstly, SKUs are not "grouped" together so they can be presented to customer as one product with several options.  During the website build and integration process we created a "smart" wizard that would group the SKUs together that appeared similar.  From here, the L&M content team could refine the list based on manufacturer, price, department, etc., and verify that each SKU was indeed a product option of the same product (see image below).  The site now could display all the SKU options under one product, rather than a individual product for each SKU.  I.e. product has 5 colors and 4 sizes, have 1 product with option to select color and size rather than 20 products.

This was a huge time saver when setting up the store and continues to be valuable as product is added to the ecommerce store moving forward.
Secondly, The Horizon import doesn't provide enough data to effectively market the product online.   Customers need to be able to find it, read more about it, see pictures of it, and select the option they want for purchase.  Because the online user cannot hold the product in their hands, they need to see images, read detailed descriptions, read reviews, etc. to assist them in their online shopping experience.  If this web or "marketing" data could not be pulled from a system like GS1, the L&M content team had to track it down and add it as part of pushing this inventory to the ecommerce site.
Finally, searching for and finding what you are looking for on a site the size of a retail chain (i.e. Horizon customers) can be a challenge.  Once the Horizon data is imported and the enhanced product detail data is provided, we must categorize the products in a manner that allows the online user to find them.  This is not always the same as you would categorize in a physical store, as you'll obviously have more options.  We have the flexibility to categorize by type, size, manufacturer, cost, practical use, etc., so the product ultimately has several locations within the online store.  The custom content management system provides the L&M content team the tools they need for all their content needs.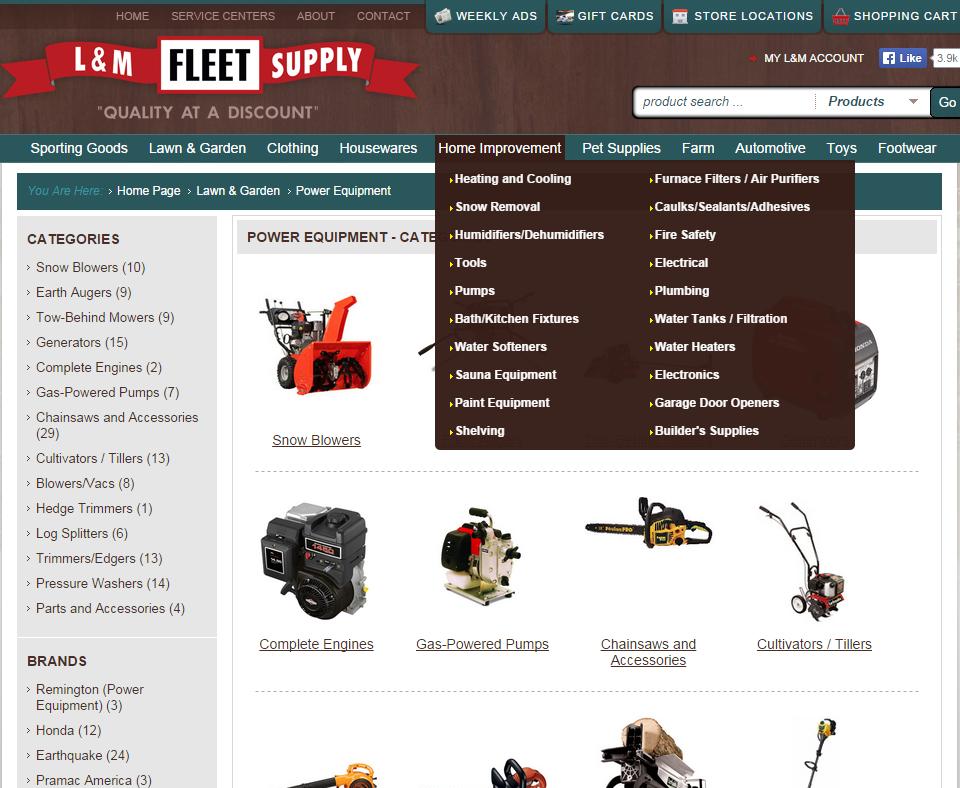 You can view the L&M Supply portfolio item if you want more info in regards to this project.  Otherwise, the website design and website development sections of the FiveTechnology.com site have a lot of good information there.
If you are a retail hardware, sporting goods, farm, fleet, home, or drug store chain using the Horizon suite of software and are looking for an eCommerce option, don't hesitate to contact us today to discuss your situation.