---
Five Launches A Minnesota Web Design Resource With Websota.com
It's no secret the passion we have for web design. It's written right on our business cards and is obvious to our clients and prospects. We also get a lot of inspiration from the great CSS Gallery websites out there and we love it when our work is featured in them.
All of this led us to create a website specifically for the awesome web design community in Minnesota, it's called Websota.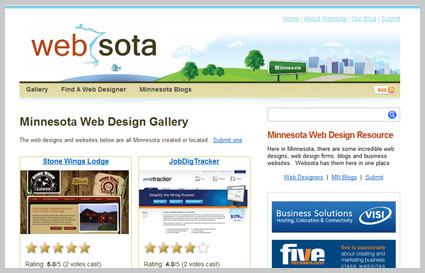 We'll be featuring great web designs we find or that are submitted by others weekly. Stay tuned for new designs appearing each week. There are directories for web design firms and freelancers to help Minnesota companies and organizations find the right web design provider and a MN blog directory.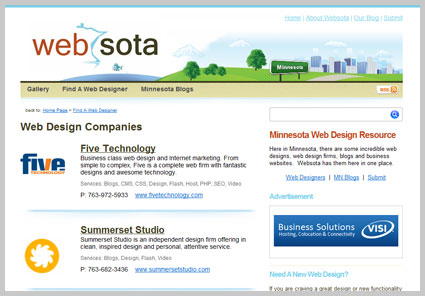 You can help (or please help)
It's not a secret that we need your help to make this site work. We'd love to get a few links and attention from the MN web design community or a blog post from you. Submit your web designs for the gallery, tell us about your web design company or your own skills and add your blog to our directory.
We have some great future plans and ideas for Websota as well. The goal is to make the site a complete MN web design resource full of web design samples, companies, tips, articles, interviews and more. You can also stay in touch with us through the Websota blog or by following us on Twitter (@websota).
Give Websota.com a visit! Rate a few web designs, add your info and tell us what we can improve upon.