---
Five Tees Up A Golf Course Web Design
Five Technology is proud to release the new web design for Wild Marsh Golf Course.  Wild Marsh is a fantastic golf course located just west of the Minneapolis metro area in Buffalo, MN.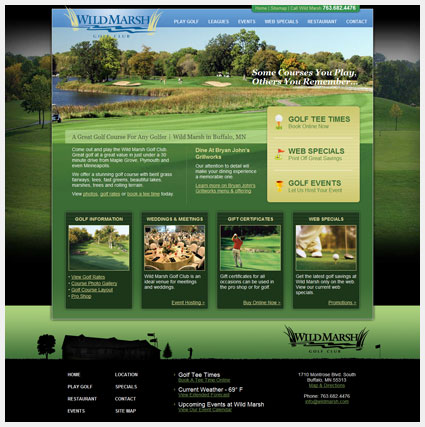 Our web redesign aimed to capture the beauty of Wild Marsh and it's surrounding nature, while making it easy for interested golfers to get all the golf course information they needed to make a tee time.
This web design project involved:
Custom web design
Built on the SMC for full content management
Online gift card purchase
Events calendar
Integrated weather feed for current & 5 day forecast
Printable golf web specials
Search engine optimization
Email marketing
We incorporated drop-down navigation for the website that displays both 2nd and 3rd level navigation to maximize the website's usability.  The drop down menu is also customized with a background image involving elements of the Wild Marsh logo (bottom).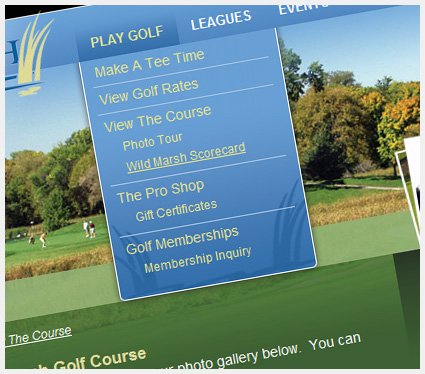 The printable golf coupons & specials page: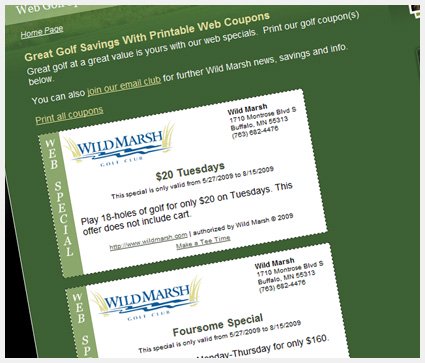 We have celebrated the release of the new Wild Marsh web design with a respectful golf clap in the Five Technology offices.  Twin Cities golfers looking for a great course at a great value will have to put this golf course on their list to play.
Website:  http://www.wildmarsh.com