---
Go Green With Local Internet Marketing, Trashed Phone Books Just Pile Up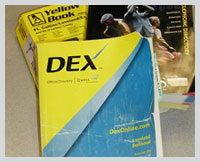 Internet marketing is an easy way to help your environment and market at the same time (ah, the feel good angle). Here in Minnesota, record numbers of phone books are being tossed out, with up to 85% ending up in the regular trash according to a recent Star Tribune article. The article cites that part of the reason is from the disappearance of recycling bins for them and the increase in the number of book types printed. They step around the fact that people are using PRINT directories less and less each day … they're going online.
So what are some Internet marketing alternatives for your small business?
1. Search Engine Optimization: Work with a professional to make sure your site is well constructed and organized for your keywords of services, products and location. Since most consumers jump online and also tie in locations, make sure if you're a plumber you come up in your city or area of service; an example of a search is "Plymouth, MN plumber".
2. Local Search: The major engines continue to roll out features to get searchers closer to local results. This local search is again triggered by a service or product term being accompanied by a city and state. You can also bleed into other nearby cities based on the amount of competition and how well you are local search optimized. Below is a screen shot of a search for "web design in Buffalo, MN" from Google, even though our offices are in nearby Delano. (Of course we're #1 in Delano)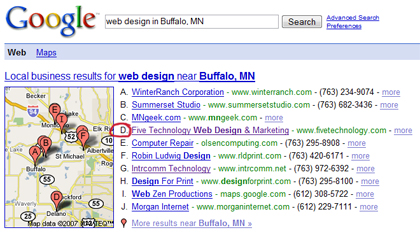 *Please note, the local search formula is a bit different then normal search rankings.
3. Local Internet Advertising: Chances are good that there are some local websites that offer online marketing opportunities. The local newspaper online, the Chamber of Commerce, a community website and a local business directory are all examples. Do a little searching online and contact these sources to see what online marketing options they have. A great feature to this is that you can track the success of Internet marketing options like banner ads, text ads and directory listings with the right web analytic tools. If you want to branch out even further then a few zip codes, then explore options like Google Adwords or Yahoo. All the big services have the option to just run ads in areas like the Twin Cities, not nationally.
So first make sure you correctly recycle your unused phone books and secondly explore your local Internet marketing opportunities and leverage search engine optimization.