---
Google, Getting Crawled & More From Matt Cutts via USA Today Tech Talk
USA Today's Jefferson Graham recently did a video segment on Google by interviewing Google's Matt Cutts for their Tech Talk section. The video is great to get a base understanding of Google's search results and and search engine optimization basics.
The biggest takeaways I found:
+ It's tough to be found for a term being searched if that text isn't on your website somehere, listen to Matt's example for a San Diego Chiropractor.
+ The importance of title tags and meta desciption tags, not only for Google in understanding the page, but for users deciding on what search results to click on.
+ Blogs! Blogs are a great way to acquire inbound links and put out engaging and valuable content. Hello small businesses!?!?!
+ Submit your site map, or have your web person or firm do it for you. It's an easy way to get Google to crawl your site and index pages.
Make sure you check out the video.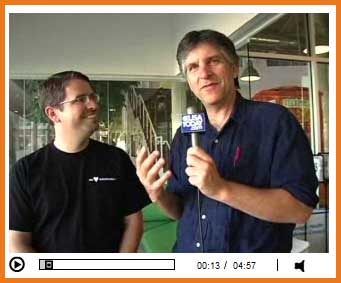 Side note to USA Today Tech Talk: Put your videos into a player that others can embed to better promote you on their blogs and websites. Be a bit more social!