---
Holiday Email Marketing Tips For E-commerce Websites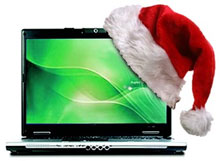 The holidays, no matter what the economy is doing still represents a time of gift giving. While the money spent may be less, the act of buying gifts on e-commerce websites and giving them will still take place.
If your business is getting ready to send out your holiday targeted email marketing campaign, consider these 3 tips for a successful email campaign. They are basic, but often overlooked.
1. Keep It Simple. If you feature specific products, make sure you do a small amount. Blasting out and email with 20 products will cause them all to loose focus with your recipient. Make sure your product feature links right to the page to buy it, not just your home page!
2. Give Ideas. Most people struggle to figure out the perfect gifts for the people on their list. If you can point out how an item is perfect for a mom who likes to travel, or a friend who is into sports, you have made their shopping easier. The power of suggestion!
3. Outline The Deadlines. Make sure that your email states when visitors/shoppers can order and still receive their items on time. Seems simple, but it's often over looked.
Make sure these 3 easy tips are covered for your email marketing campaign this holiday season and you'll find success converting recipients into buyers. The feedback from some of our clients on their holiday email campaigns this past week has been very favorable.