---
Local Search Study Shows Over 70% Of Consumers Start Online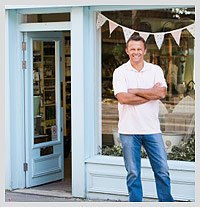 Looking for a local business, service or product starts online for close to 3 out of every 4 consumers.  I'm guessing that number reported by a recent Local Search Usage Study isn't alarming to consumers or business owners these days.
What continues to be alarming for me is the number of businesses that lack correct information online, multiple sources to be found by and online marketing strategies (no matter how small they might be).
Inc. Magazine's recent write-up on this local search study highlighted many of the statistics compiled from the survey of 4,000 consumers surveyed and over 1 million that had their online searches monitored.
Here are a few numbers that should jump out at a business owner or marketer and make them take note:
70% start looking for a business online, up 7% from 2009

33% use Google, Bing or Yahoo – traditional search engines

22% use Internet Yellow Pages or directories (Yelp.com included)

For those using local search sites, Google Places commands 41%, Bing 11% (up 7% from 2009)

78% of consumers say reviews and ratings factor into their purchases

1 in 6 searchers is frustrated by the lack of reliable & correct information about small businesses on the web

33% give up on a business when they can't find the information they are looking for
So to put numbers into words, what you have online to represent your small business is huge.  So what can you do as a small business?  Here are just some of the basics:
Be Visible

Have at least a basic web presence
Make sure you claim your main local search listings (use GetListed.Org to check)
Make sure you are listed on directories like Yelp, Citysearch, InfoUSA
Look into what local sites you can be linked on or listed on – chambers, org's, local blogs
Look into social media: Facebook, Twitter, YouTube and blogging might be a fit for you
The key here is to have more than a few "entrance points" into your information
Be Accurate
Make sure your info is correct on all platforms – hours, services, products, photos, links
There might be data on your business, but you should CLAIM your listings & data
Develop content to build trust, show your expertise and help you win comparisons
Have A Plan
Even the smallest plan beats hoping you're getting out there
Find and attend a small business workshop or seminar on local or online marketing
Search online! There are numerous great blogs, people on Twitter and more to help you
Seek out a trusted and recommended small business online marketer
Research your competition, their website, their social media, their listings
Network with other business owners
The numbers in this report are only trending higher every year for the importance of an online presence and reputation.  Get started with the basics and put an end to your "hope" marketing plan, it won't pan out.