---
Local University Comes To Minneapolis & St. Paul, Minnesota
I'm very excited to announce that GetListed.org's Local University is coming to the Twin Cities on May 13th, 2010. This half day workshop is a must for any Minnesota business wanting to better understand marketing online via your website, search engines and social media.

This 4 hour seminar features national experts as well as representatives from Google and Bing, covering an incredible amount of Internet marketing information.
You can sign-up now for just $89 (Save $40!) by using Five Technology's promo code:

five2010
This workshop will be held at the fantastic Westin Hotel in Edina, located just off France Ave. There are two identical sessions, one morning and one afternoon, but seating is currently limited to just 200 per session.
Local University introduces, explains and teaches Internet marketing basics, aimed at the small business owner and marketing person. Incredible insight, process, best practices, D-I-Y tips and case studies will be provided on:
Search engine optimization (SEO)
Local search (Google LBC & Maps, Bing Local)
Social Media (Blogs, Facebook & Twitter)
Web Analytics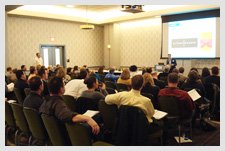 This event is truly one of kind to hit the Minneapolis & St Paul area. Take advantage of the opportunity to learn Search Engine Optimization tips and techniques that will lead to sustained, long-term search engine rankings (and new customers). The last Local University event in Spokane, WA was a huge success.
Local University Presenters
I'm also excited to be part of the outstanding line-up of presenters including David Mihm of GetListed.org, Mike Blumenthal, Matt McGee, Mary Bowling, Ed Reese, Ryan Hayward of Google and Mikko Ollila of Bing.
Register Today
Head over to the Twin Cities registration page (use our promo code) and reserve your spot. If you're coming from outstate Minnesota, the Westin is offering a $139/night rate for fantastic accommodations.
You simply won't find another seminar, with this amount of information here in Minnesota for the price.
Local University Twin Cities is sponsored by Google, Bing, Deluxe and ReliaCloud Cloud Servers from VISI.