---
Minnesota Web Design Is Both Hot & Cool: Corporate Mechanical
Our latest web design project to be released is for commercial HVAC and mechanical contractor Corporate Mechanical of Minnesota.  Serving the heating, cooling and mechanical needs of the Minneapolis area, Corporate Mechanical asked Five to heat up their web presence with a cool new web design and improvements to other areas online.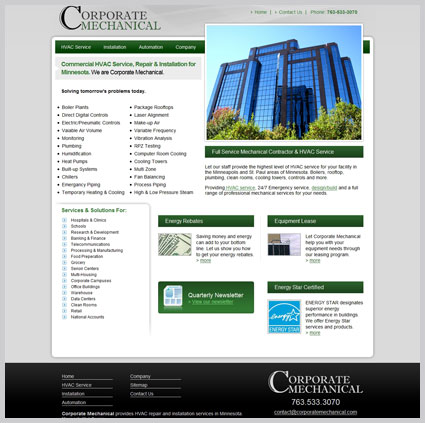 For the project we took up the creative task of a new web design and flash element to the home page.  Corporate's old website was all in Flash and while they liked some of the effect, they disliked the lack of search engine traffic and the inability to update the site.  In building out the new web design on the SMC, they now have full control of their website.
The redesign also gave them a chance to add and strengthen their content on HVAC services, Equipment leasing program and take online service requests.
Some of the web design project highlights:
Custom web design
Flash design element
Built on our CMS, the SMC
Drop down navigation
On-page search engine optimization (SEO)
Email marketing design & set-up
We're proud to have Corporate Mechanical as one of our clients.  If your not exactly comfortable in your office as you read this, you might want to give the Corporate Mechanical crew a call!
View the new website: http://www.corporatemechanical.com