---
Online Reviews: How Important Are They For Your Local Business?
Online reviews can be seen on your Google Places page and other website profiles such as Yelp and Urban Spoon. When someone is using a search engine to find restaurants, hotels, or other local services, they will likely find some of these online profiles and will use what they learn from these profiles to choose where they spend their money.
How important are the reviews? Let's take a look at some of the ways they can impact your business.
Reviews are eye-catching
In the screenshot below, the one that catches my eye the most is Aloha Chinese Takeout which has the highest score with four and a half stars with seven reviews.
It was only after studying this for awhile that I noticed Kim Huoyh Chor. It only has four reviews and doesn't yet have an average star rating, so I didn't even see it while scanning through the results. Kim Huoyh Chor might get lost on this page because it doesn't have enough reviews to show an average star rating. Those shiny stars really stand out! Not many people will study the search results like I was doing when preparing for this blog post.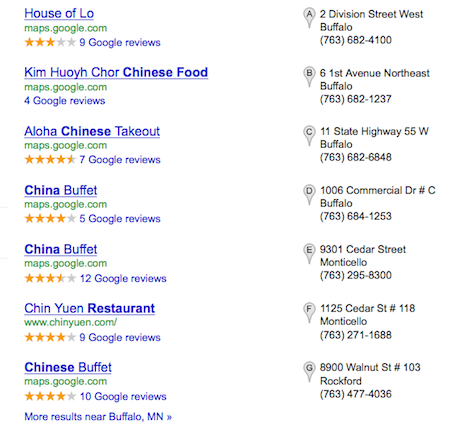 Reviews build trust
Not only did Aloha Chinese Takeout catch my eye first, it left an impression on me because it had such a great score. If you're like me, you want to take this list and narrow it down to about two or three candidates. How do I do that? If all other things are equal, I will choose one of the best reviewed establishments every time.
Reviews could help your rankings
According to a statistical study by Bizible, reviews can help your search engine rankings:
Having five or more Google reviews was associated with a 1.85 improvement in rank.
Bizible does go on to say that it may not be a direct ranking signal, but that the presence of five reviews or more helps get higher click through rates which does send a strong signal to Google.
Many other search marketing professionals believe that reviews can help rankings. You can read about that at David Mihm's yearly local search ranking factors.
There is no way to prove for certain that reviews help your rankings since Google does not disclose their ranking algorithm. But it's generally believed that the number of reviews, sentiment of reviews, and keywords contained in reviews can help. This does not mean businesses with more and better reviews will always rank higher, it's just one part of Google's algorithm remember!
So what?
Simply put, the more positive reviews your business has, the better chance you have at ranking and converting searchers to paying customers. Having many high quality reviews can help elevate your business above the crowd.
Ask for reviews from satisfied customers. Even ask some friends or family members for reviews. If they have used your service and love it, that will come through in their review. Do not load your business page up with hundreds of fake reviews! A few authentic reviews is a better choice every time.
By the way, I chose Aloha Chinese Takeout. And it was delicious.