---
Trucking Company Web Design Project Is An Oversized Success
Otto Transfer hauls the big things others can't. Giant telephone poles and other oversized loads are the common freight for Otto's trucking and hauling services.
Owner Kevin Otto came to Five with two needs. One was to get a professional website up and the other was to make it a valuable resource for his cusotmers and staff by adding online account management and quoting. Kevin had tried to put up a Yahoo "do-it-yourself" website a while back and it didn't quite cut it. Five's web design services went to work and created a professional, clean and branded design to show that Otto is a successful and experienced Minnesota trucking company.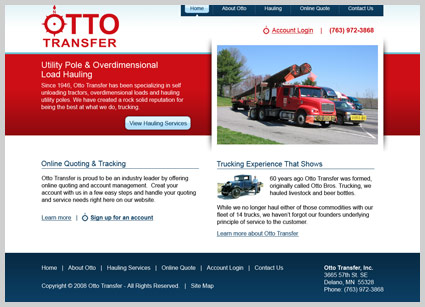 Online Quoting & Account Management
Kevin's idea to streamline quoting and account management through the website was a great idea. Now his clients can get access to past quotes, pending quotes and submit new ones with ease. The Otto Transfer staff can update statuses, price out quotes and take advantage of admin features that let them search similar quotes for a faster pricing process. Easier for the customer and easier for Otto, thats a win-win. Here are a few sample screenshots from the log-in and account management screen.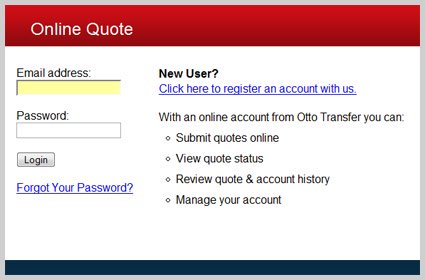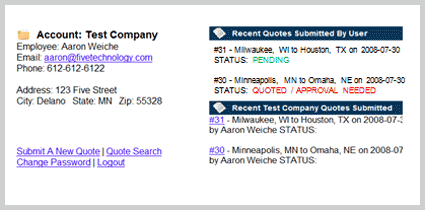 We're pleased with the project outcome and Otto Transfer is too. This project is a good illustration of web design and web development working to mesh a good looking design with a fantastic business tool. If you see one of their oversized loads on the highway, get out of the way. This trucking company is going places.
If you have a business process you want to bring online, give us a holler.