---
Web Design & CSS Inspiration Resources: Noupe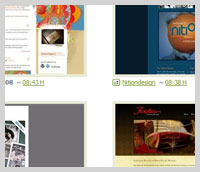 For me there is nothing better than hitting up some of the great CSS gallery websites as well as the different CSS and web resources out there. I'm one of those in a constant push to find new techniques, angles, connections and develop new lines of thinking.
That said, I'm not a radical or into confusing a user for the sake of "cool". I am however after the almighty goal of creating easy to use web interfaces and designs that make an impression so my client can win business by being remembered (branding ya say!).
So today I came across a new resource when viewing the updated screenshots on CSS Mania. Take a peak at Noupe if you like posts/articles with tutorials, links and examples galore.

Here are 3 articles that I thought rocked. Glad I found another source of creative knowledge, from another source of inspiration.
Have a great weekend.