---
Web Design Project: Fehn Companies
Our latest web design project was for Fehn Companies Inc. out of the Minneapolis, MN area. Specializing in excavating, grading, and demolition, Fehn Companies Inc. is a second generation family owned business.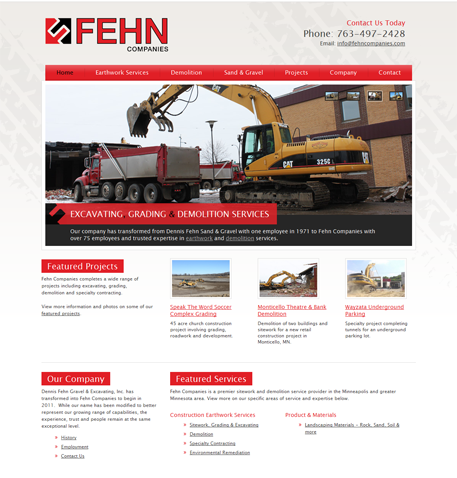 Projects
Five Technology knew it was important to capture Fehn Companies in action. That is why we did photography at three key job sites. We used these images on the projects page to illustrate what Fehn Companies can do.
Check out their Monticello Theatre & Bank Demolition project and see for yourself. This page features an informative description, a beautiful photo gallery and has excellent SEO value.
We're excited for what we've seen Fehn Companies do but we're even more excited to see what Fehn Companies does in the future.
Visit the website: http://www.fehncompanies.com/