---
Web Design Project: Rear Window Media
One of our recent web design projects has been grabbing some attention.  Rear Window Media is a real-time, digital marketing start-up that utilizes LCD screens in vehicles to run ads while on the roadways.  Simply put they are mobile digital billboards, but RWM has done so much more with it.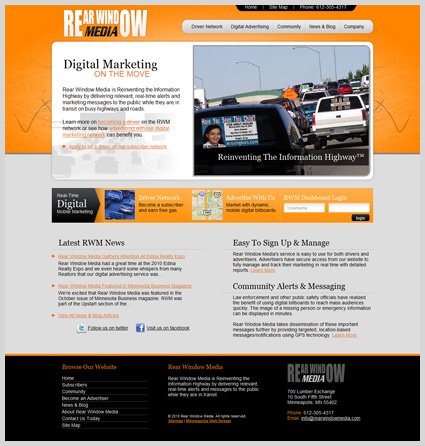 A Complete Web Application
Rear Window Media runs their business right from their website.  The back-end is a web application that allows advertisers to manage their ad(s) showing, their ad budget and other campaign details.  This application (screenshot below) is the hub of their client interaction and gives complete control to their advertising clients.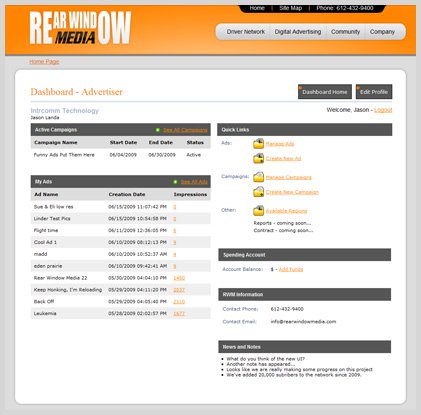 Incredible Tracking
RWM advertisers also get to view detailed maps on just exactly where there ads are showing.  How's that for tracking?  By integrating Google maps with their web application, an advertiser can see what block in downtown Minneapolis thier ad appeared or what mile market on Interstate 35W.  Real time advertising, real time tracking.
Here is a screenshot of the map tracking report.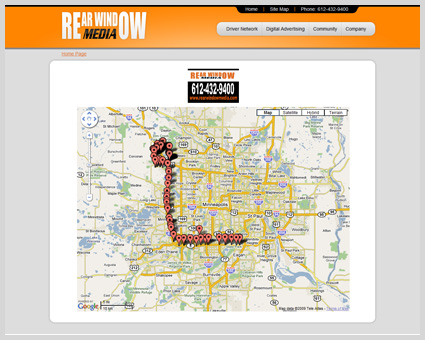 Web Design Project Overall
Five completed the front end of the web design and as well for their marketing interface.  This project really shows our ability to handle both the marketing front of a project and the complex web application backend, far past our great CMS features.
This project included:
Search Engine Friendly build
Custom WordPress blog for RWM news
Advertiser account & log-in
Web application management for advertising
Custom Google maps reporting
Content management platform (SMC)
If you haven't yet, visit the site:  http://www.rearwindowmedia.com