---
Your SEO Team, NBA Draft Style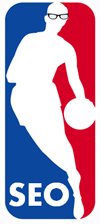 With tonight's NBA Draft looming I thought I would morph it a bit into the search engine optimization world. If I had to draft a team of SEO pieces to work together as a team to achieve search ranking greatness, here is what I would draft for my five SEO starters.
1. Point Guard – Keyword Research: As the point guard is often the floor general taking care of handling and passing the ball to all of the team, the keyword research tool is this key cog. Without targeting the right terms, you are just turning the ball over. Wordtracker, Keyword Discovery and many free tools are out there, draft yours and put it to use.
2. Shooting Guard – Valuable Content: You depend on your shooting guard to make those open looks and produce offense and points and your web content is no different. Creating content for your website that is unique, valuable and well structured is your best SEO offense. Put to use ideas like real examples of how your company can help specific situations or clients, exact capabilities or outlining your process. Stop with the fluff and deliver real stuff.
3. Small Forward – Metadata Elements: Just as many a small forward is a well rounded player with a bit more size, metadata is multi skilled and versatile. Your page title is the most important of this triple threat player. It's relevant in your ranking as well as what the searcher sees in the results to click. A great page title can go a long way. Utilize the meta description tag to support the title tag and find the right call to action. While the meta description won't help your rank, it will increase your clicks. Last is meta tags, which all I will say is complete these for each page, but limit yourself to 5 to 8 relevant ones and don't over do it … they matter little.
4. Power Forward – Proper Structure: While many debate just how much proper page and content structure bring to the SEO process, I take value in it. The power forward does just that, brings the muscle. I see proper structure of a site, page and it's content strengthening the content and value. Use of H tags, list items, image alts and other structural elements bulks up your website and ensures your proper elements won't be slighted.
5. Center – Link Building: The NBA draft is always about 7 footers … as they say you can't teach height. It's the reason the last 30 years of drafts have only seen 1 guard taken #1 ( Allen Iverson in 1996) . Link building is the center of your SEO team. Don't forget that internal links on your site also matter, so don't ignore your own pages and content. Some of link building is straight forward, where other areas require ideas and creativity.
There you have the basics of my SEO draft. I hope that I have drafted better than our local T-Wolves seem to do every year since we plucked KG so long ago. I'll be happy with OJ Mayo, unless the miracle of Rose or Beasley fall to us.
Do you have someone else you'd draft ahead of my five? A sleeper SEO pick? I'd love to hear your thoughts.