---
Five Technology Client Appears On WCCO-TV
Rear Window Media, a Five Technology client was featured on WCCO news for their mobile digital advertising service.  While the story played to the "controversial" angle of vehicles displaying ads, we're excited for our client's exposure of their unique advertising service.
WCCO doesn't offer a video embed, click here for the video.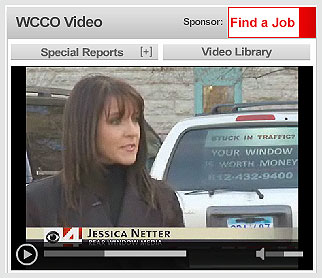 Five Technology worked with Rear Window Media's President Jessica Netter and created both the web design and an extensive web application that runs the Rear Window advertising management.  Rear Window clients can manage ad rotations, budget and track their advertising with GPS mapping right from an online account. We'll post more on the Rear Window Project in a future blog post.
How valuable for an advertiser to know exactly what spot on Interstate 94 or what block in downtown Minneapolis their ad was displayed? Sounds like smarter marketing to me.
Check out the video, you'll see the Five Technology logo in a few shots as we have some ads on their network.
Regardless of the service being controversial or not, Rear Window has seen a significant spike in both drivers wanting to use the service and advertisers for their network since the story aired. Any publicity is often good publicity, no matter how the story is spun.
Congrats Rear Window!  http://www.rearwindowmedia.com