---
Local Web Design Goodness: Buffalo Chamber Website Redesign
This past month we had the opportunity to complete a website redesign for the Buffalo, MN Chamber of Commerce. It's a project I enjoyed for the fact I grew up in Buffalo, moved back 4 years ago and have worked with them on and off for the past 6 years. The Chamber has been on our content management tool, the SMC, for over 5 years but the site's design was about 7 years old and in need of a serious redesign.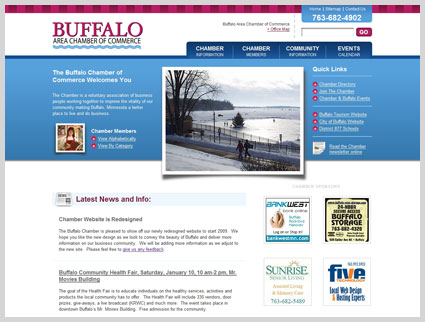 Web Redesign Needs
Visually we wanted the site to feel more vibrant and alive with ample places for photos. Buffalo is positioned between two beautiful lakes with the downtown right next to Buffalo Lake, so the ability to show off the setting was a must.
We have also built in photo galleries that the chamber will be adding to in the future allowing them to better recap community and chamber events.
Usability wise, we aimed to improve the navigation a bit and utilized drop down navigation for their future expansion and content additions.
Share The News With WordPress & RSS
The website is most frequently updated with news items and upcoming area events on the home page. We integrated WordPress into the site so that the news updates would be archived and extremely SEO friendly. In the near future we will be adding RSS and email subscription abilities for site users to be notified as news hist the website.
+ Check out the new Buffalo Chamber website and let us know what you think of it!