---
Web Design Project: Ranchline Network
Sometimes you have to go bigger, the Ranchline Network web design project is an example of that.  The Ranchline brand has 4 other websites on our web platform and I have worked with them for years, including on their logo design.
Ranchline Network is a national real estate listing website, focusing on high-end land and ranches for sale. The website features hundreds of listings from brokers and agents all across the US and even Internationally.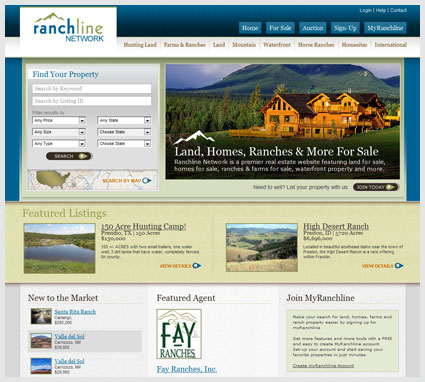 Ranchline was founded by real estate broker Paul Taylor III who has achieved incredible success in the industry.  Paul and the Ranchline team saw a great opportunity to bring their marketing and Internet success to others in the Real Estate industry as a tool for them to market their properties and homes for sale as well.
Ranchline Network – A Better Website
At the core of the Ranchline Network website is a focus on making real estate research easy for the consumer.  The website offers the ability for a user to create an account to save properties and searches.  The layout is clean and offers clear navigation in multiple formats for any user to find their desired property.  These include:
Type Navigation like Ranches For Sale, Land For Sale & Waterfront For Sale
By State Navigation like Montana For Sale, New Mexico For Sale, Texas For Sale
Search filters for land type, location, price range, listing ID# or keyword
Visual map search with listing population numbers by state (see below)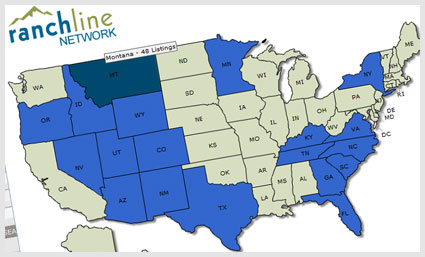 In moving through the real estate listings users are presented with both strong visuals, clear navigation and over property details. Once into an exact listing the page consists of a variety of images, content, details, maps and more.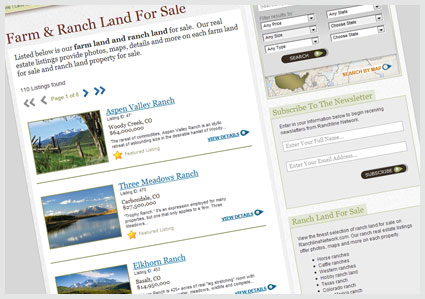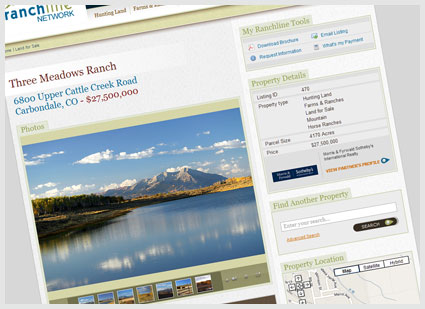 Content Management System To The Extreme
Our web platform is extremely flexible, scalable and capable of some great custom features. This project offered us the chance to program some great features for the updating and adding of listings.  The back-end offers a great feature and tool set including:
Online creation of client accounts
Online payment of one-time advertising & membership fees
Uploading of listings, data, photos, video and more
Listing statistics for agents to view stats on searches, impressions, views, clicks & contacts
XML feed capabilities to automate listing population & updating process
Overall Website Project Details
The Ranchline Network project was a very expansive project and the client is not engaged in online marketing strategies with Five as well.  As an overview, the web design project involved:
Custom web design
Content management system integration
User accounts and agent accounts
E-commerce & merchant account
Multiple search & filter features
Banner ad network
Photo gallery features
Google maps
Various XML data feeds
Search engine optimization
Pay per click marketing
Web analytics
Check it all out for yourself, we're proud to work with Ranchline as part of their team and business success.
Visit the website: http://www.ranchlinenetwork.com