---
Responsive Web Design for Ranch Real Estate Company
Five Technology recently designed and implemented a responsive web design for Pfister Land Company, a premiere ranch real estate brokerage in Wyoming. Pfister was in a position that many companies find themselves in, it needed a new website design as its current website was outdated and difficult to manage.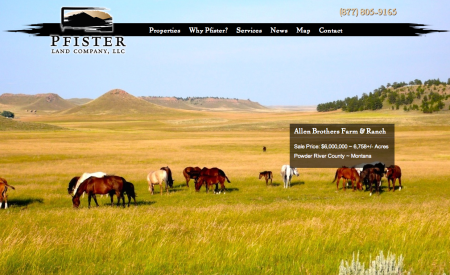 Pfister needed a website design that would showcase its premiere ranches and properties, an easy, yet robust way to update listings, and a website that was optimized for mobile usage.  Typically, ranch real estate websites require quite a bit of custom website development, and Pfister was no different. They needed a variety of ways for users to search for properties, easy ways to update property listings loaded with content, and an easy way to distribute industry and company news tidbits.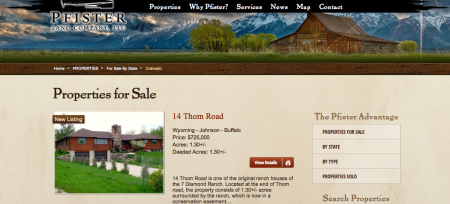 Pfister's number one goal in redesigning its website was to enhance it's branding efforts online. We wanted to create a unique look and feel that would require many custom graphic design features. So, we created a custom website design that would really set Pfister apart from the competition. We were able to incorporate a lot of unique, creative features into the design by pulling in a custom graphic designer. Items like the wood grain in the header, burnt graphics in the main navigation, and the custom graphics seen in the footer would not have been possible if we would have used a theme website design. The great photography that Pfister provided for the site really helped to enhance that custom design that much more.
Pfister had realized that many of its users were accessing the Internet with mobile devices like tablets and smartphones. So, we wanted to optimize their new design for mobile use. The best way to do this in today's age is with a responsive web design. We would implement a responsive web design by having our graphic designer create not only desktop views of all page templates, but tablet and phone views as well. Our developers would then set breaking points for each design so that the website would adapt to any device.
Once all of the custom design templates (homepage, internal page, property preview, and property detail) were approved by the client, we sliced the approved designs into CSS and HTML formatting. We were then able to take the sliced designs and integrate them into our content management system (CMS).
Once all of the designs and page views were implemented, our engineers were able to dive into the basic elements of the website (navigation, contact forms, content management, etc.) Our developers were then able to begin the more involved custom website development portion of the website.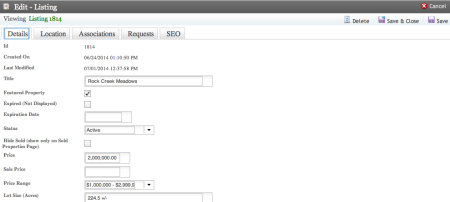 Property Listings.  Pfister needed a way to easily update and manage property listing information. Our custom web developers built a custom plugin that would manage all listings on the website. The plugin included easy content entry for items like acres, pricing, property descriptions, images, maps, brochures, videos, follow-up emails, and more.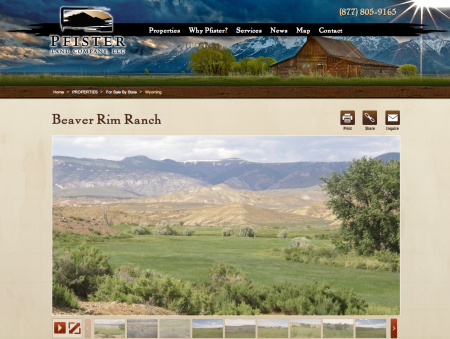 Google Mapping.  Ingrained in the property listings plugin, is the ability to enter the listing's address or longitude and latitude. If the fields are filled out properly, it will automatically generate a custom map pin with Pfister's brand on a custom Google map that was integrated into the website.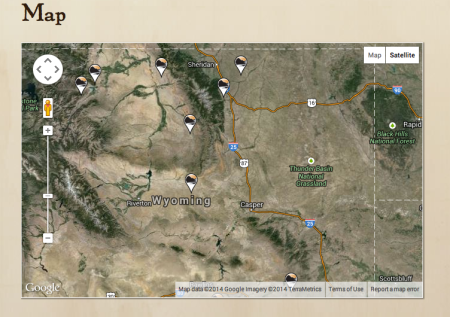 News Blog.  Pfister also needed a way to update their clients and prospects on company news and industry tidbits. We implemented a custom blogging platform, which would give Pfister control of all blog posts via the same content management system as the rest of the website. A blog will help Pfister establish itself as an industry leader in knowledge and engage with its customers on a semi-casual basis.
We wanted to incorporate some more methods of digital marketing into the website for this ranch real estate company. Each page of Pfister's website includes its contact information as well as links to Pfister's social media sites so visitors can follow them on social media platforms such as Facebook, Twitter, YouTube and Google+.
Each property listing also includes a form for interested buyers to enter their contact information and download a brochure and any additional documents that Pfister wishes to include. When a form is filled out, Pfister is notified via email to send the new lead the information needed. A custom email template is included in the notification to limit the amount of work on Pfister's end when following-up with potential buyers.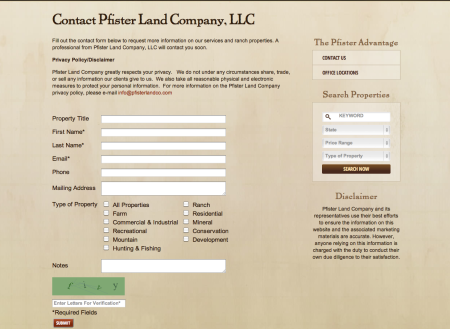 Overall, this custom website design was an extraordinary addition to our web design portfolio.  More importantly, this responsive web design will enhance Pfister's online presence for all types of users, as well as help generate more online leads by providing a great user experience.
If you like the work we did with Pfister, feel free to hit us up to discuss your website needs more!